HonorHealth Administrative Fellowship Program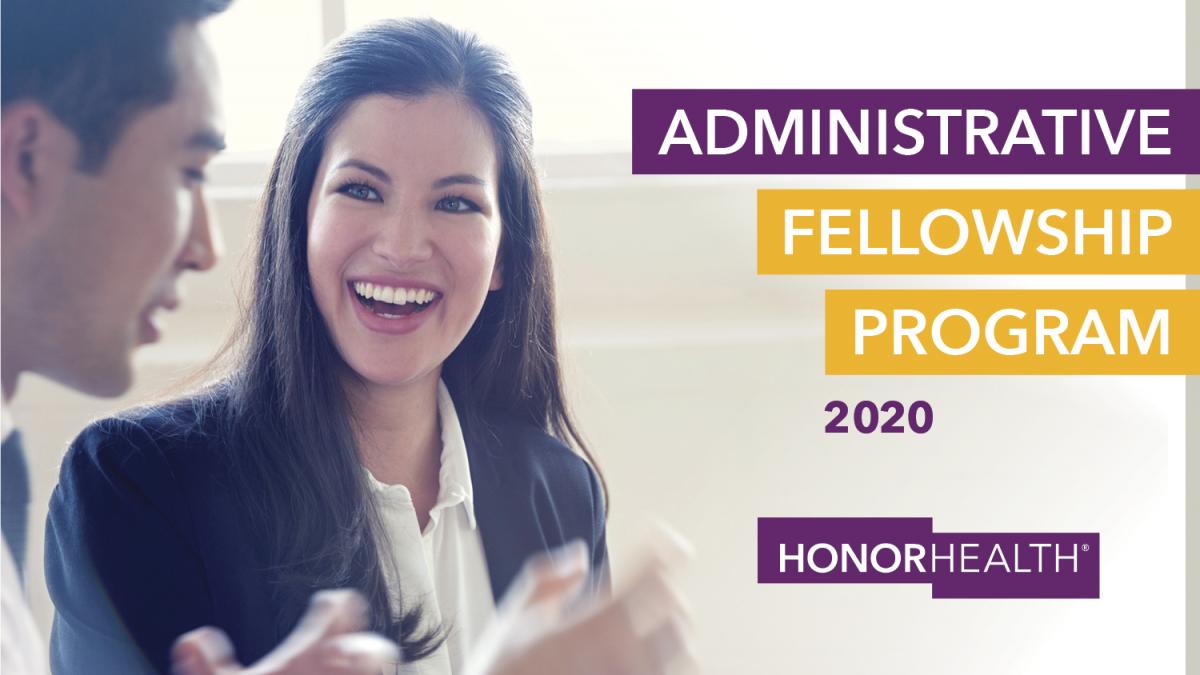 Program overview
The HonorHealth Administrative Fellowship is an 18-month program that provides practical experience and leadership development through direct exposure to, and active participation in, projects as well as high-level management rotations throughout the health system. The fellowship emphasizes a balanced approach to your continuous learning, project leadership, and productive time.
Fellowship rotations during the first 12 months of the program may include:
Hospital regions.
Corporate leadership.
Strategic planning.
HonorHealth Medical Group and outpatient services.
Human Resources.
Finance.
NOAH (Neighborhood Outreach Access to Health) Clinics.
Service lines.
The program is structured around the use of the Daily Management System that includes:
Patient experience.
Quality/safety.
People.
Growth.
Financial stewardship.
In addition to assigned projects, you're encouraged to build relationships and seek assignments within your areas of interest. The remaining six months of the fellowship are self-guided, allowing you to leverage those relationships and experiences and migrate toward a field of interest or organizational need within HonorHealth.
Toward the end of the fellowship, you'll also have the opportunity to present your accomplishments to the senior vice presidents.
AVP, Strategic Planning; Manager, Inventory Operations; Director, Regional Strategic Projects; and Category Administrator, Supply Chain are just some examples of positions that former fellows either currently hold or positions they moved into after completing the Fellowship Program at HonorHealth.
A big year for HonorHealth
For those who choose to stay on with HonorHealth after the fellowship, they join a workforce of nearly 11,500 employees, 3,400 physicians, and 3,000 volunteers who collectively combine their talents and passions to improve the health and well-being of those we serve. The following video highlights a few of the big things we've accomplished over the past year.
Frequently asked questions
Who can apply?
The fellowship application is open to individuals who have completed:
A relevant master's degree (MHA, MBA, MPH or other related degree) within the year (12 months) preceding the start of the fellowship.
At least one year of healthcare-related experience or exposure.
Applicants must have been awarded their degree prior to the start of the fellowship or have completed the didactic portion of their degree requirements before the start of the fellowship if enrolled in a 3-year program. Applicants who have graduated from a CAHME-accredited program are preferred. HonorHealth does not sponsor work visas at this time.
How do I apply?
The NAFCAS applicant portal opens on June 12, and all applications must be submitted through NAFCAS by Oct.2 to be considered for the fellowship in the upcoming calendar year. Submit the following documents:
Resume or CV.
Cover letter.
Official graduate school transcript.
Three letters of recommendation: one academic, one professional, and one other (academic or professional).
What does the interview schedule and selection look like?
NAFCAS applicant portal opens June 12.
Phase 1 interview: mid-October.
Phase 2 interview: late October.
On-site interview: late October - early November.
Official offer acceptance date: November 13.
When will the fellowship program begin?
The start date is flexible, but fellows usually begin in mid-June or mid-July.
How many fellows does HonorHealth take each year?
There will be one fellow for the 2020-2021 fellowship, and he/she will overlap with the previous fellows for six months.
What are the benefits?
Employee benefits range from health insurance options that meet your individual and family needs to those involving wellness, financial health and retirement.
Additional benefits include:
Salary competitive with other national administrative fellowship programs.
Relocation assistance.
Reimbursement for a healthcare-related conference.
Who is the executive preceptor for the fellowship?
The current preceptors are Kim Post, Chief Operations Officer, and Wendy Crawford, Human Resources and Marketing senior vice president.
Additional Information?
For additional information about the program, feel free to reach out to Steven Tew, the most immediate past fellow. You can also download the Administrative Fellowship Program brochure.