HonorHealth Charity Golf Classic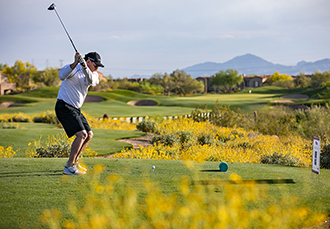 The 33rd annual HonorHealth Charity Golf Classic will be held April 12-13, 2018 at Grayhawk Golf Club in Scottsdale, AZ.
The Golf Classic has raised over $4 million for HonorHealth programs and services. Proceeds from the 2018 Golf Classic will benefit the HonorHealth Military Partnership for training our military and first responder medical personnel.
Join us in this worthy cause which will positively impact thousands of lives in the coming year. Thank you for supporting the Charity Golf Classic and HonorHealth Military Partnership.
For questions or for sponsorship information, please call Deborah Rittenhouse at 480-882-4505.
Location: Grayhawk Golf Club, 8620 E Thompson Peak Pkwy, Scottsdale, AZ
Tee Off Reception: April 12, 6:30-9:00 p.m.
Morning Shotgun Start: April 13, 7:30 a.m.

Amateur Golfers
Foursomes are available for the afternoon shotgun (1:15pm). Please register below. The morning shotgun is sold out for amateur teams.
Pro Golfers
Please call Deborah Rittenhouse regarding pro registration at 480-882-4505.
window.bboxInit = function () { bbox.showForm('89c97d32-de1d-4bff-a43c-217a9568cdf5'); }; (function () { var e = document.createElement('script'); e.async = true; e.src = 'https://bbox.blackbaudhosting.com/webforms/bbox-min.js'; document.getElementsByTagName('head')[0].appendChild(e); } ());
Thank you to our sponsors