Our HonorHealth Teen Career Exploration Summer Program is now open for applications!
Volunteers are an integral part of the success of HonorHealth and provide an indispensable service to the patients, visitors and staff of our health system. Your service this summer will help better serve our community and we are looking forward to receiving your application and meeting you in the near future.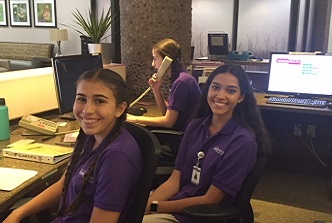 HonorHealth Teen Career Exploration Summer Program is designed to provide an overview of the hospital environment through volunteer service and offers opportunities for our high school students to learn about professions in the health care. Each teen accepted into the program will be required to become a HonorHealth volunteer and will be trained to serve at an assigned campus in a hospital department. Weekly opportunities to meet and learn from a health care professionals are also included, many of which are hands-on.
The program is open to high school students who will be rising sophomores, juniors, or seniors this summer and is a competitive 7-week summer volunteer program which requires a completed application and successful interview in order to be accepted into the program. Please use the application link below to start the process for applying for a place in the program.
Program Timeline:
Applications available until April 15, 2019 or once all interview slots have been filled, whichever comes first.
All candidates will receive an In-person interview, currently scheduled for mid-April.
Accepted applicants will attend Volunteer Orientation, complete remaining onboarding requirements, and attend campus training throughout May.
Summer Teen volunteer service is scheduled between June 1 through August 10, 2019.
Please refer to our FAQ's for more information on the program.
Your interest in serving the community and HonorHealth is greatly appreciated!