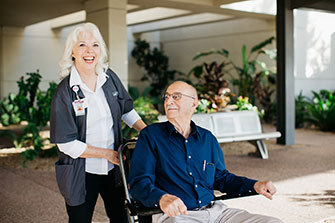 Application Instructions:
Download the Volunteer Application Form and save it to your computer.
For teen applicants only, have a parent or guardian complete the parental consent section of the application.
Email the completed application as an attachment to volunteer.phoenix@honorhealth.com.
You may also mail or fax the completed form to us. Please see the application form for details.
Our Volunteer Services staff will contact you to schedule an interview.
Who can volunteer:
Teen opportunities are available year-round for those 14 years and older based on availability. Parental consent is required to participate in the teen program. In addition:
A minimum three-month commitment is requested, but six months or longer is preferred.
A regular schedule is required for many positions (weekly or every other week).
A volunteer uniform is required.
As a part of the commitment to the health and well-being of our workforce and community, HonorHealth no longer hires or re-hires individuals who use tobacco. We also can no longer accept volunteers who use tobacco products.
Types of Volunteer Positions
A variety of year-round opportunities are available at these HonorHealth locations in Phoenix: John C. Lincoln Medical Center, Deer Valley Medical Center and Sonoran Health and Emergency Center.