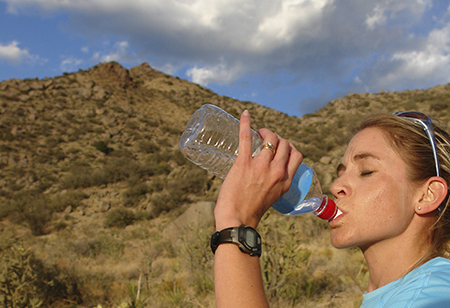 With daily temps rising, you don't have to put your workouts on hold because it's just too dang hot.
HonorHealth Exercise Physiologist Kindala Owens recommends the following five tips to help you reap the benefits of regular physical activity.
Exercise inside. Enjoy air-conditioned comfort with options like:

Use exercise videos and phone apps at home.
Walk at the local mall. The customer service desk can provide distances inside the mall.
Visit recreation centers or gyms with fitness classes, exercise equipment and indoor tracks and pools.

Avoid the hottest times of day. Avoid the hours between 11 a.m. and 5 p.m. Check the weather forecast before planning your outdoor workout. The best time to be outside? Before sunrise and after sunset.
Stay hydrated. Drink plenty of fluids before, during and after your workout to avoid dehydration and other heat-related illnesses.
Cover up, appropriately. Choose the right gear. Go for light-colored, breathable, lightweight clothing. Sunscreen is a must in our sunny state!
Listen to your body. The best way to play it safe while exercising in the heat is by listening to your body. Recognize the signs and symptoms of heat-related illnesses, which include headache, dizziness, lightheadedness, muscle cramps, nausea or confusion. If you begin experiencing any of these symptoms, stop your workout and move to a cool, shaded area.
If you're new to exercising, be sure to contact your HonorHealth doctor before starting any exercise program or call 623-580-5800 to find a doctor who can help.