"I felt like a baby deer trying to get its footing when I'd walk or run."
That's how Eddie described maneuvering through life with chronic numbness and tingling in his legs and feet. The cause? A benign tumor called a meningioma. Measuring roughly three quarters of an inch, it was located behind the T7 vertebra in his back.
Estimated to have been silently growing for 10-15 years, the tumor's effects on Eddie's life went from irritation and discomfort to chronic pain and constant numbness.
"I had backaches for about two years before I started noticing numbness and tingling in the summer of 2016," he said. "It lasted all day, every day, and got progressively worse."
When trips to the chiropractor provided little more than temporary relief, Eddie turned to his primary care physician. X-rays didn't reveal the cause of his symptoms, but Eddie's blood work showed high levels of creatine phosphokinase. Elevated levels of the enzyme can be associated with injury or stress to the skeletal muscle tissue.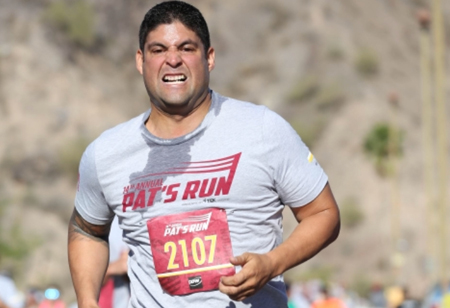 "My primary care doctor sent me to a neuromuscular specialist who ran more tests to see if maybe I had an autoimmune disease, but those tests came back negative," Eddie explained.
Still seeking answers, he turned to an orthopedist.
MRI reveals tumor
"He (the orthopedist) knew right away that it was a neurological condition, and he ordered an MRI," Eddie said.
Test results confirmed that a benign tumor was the cause of Eddie's symptoms.
"I was sent back to the neuromuscular doctor, who told me that surgery was my next step," he said.
Eddie began researching neurosurgeons. He was immediately impressed by the bio and reviews of Luis M. Tumialan, MD, a neurosurgeon who is an independent member of the HonorHealth medical staff.
"He didn't have any negative reviews, and I saw that he specializes in minimally invasive back surgery," Eddie said.
Within two weeks of meeting Dr. Tumialan, Eddie, then 40, underwent back surgery in January 2017. Upon completion of the nearly 4 ½-hour procedure, he was moved from the operating room to the hospital's intensive care unit.
"I spent one night in the ICU as a precaution and then a second night in a regular patient room," Eddie said.
He got his life back
With no formal rehabilitation needed, Eddie's only signs of surgery included a one-and-a-half-inch incision on his back and restrictions to not lift anything more than five pounds, and not to bend or twist for a month.
"Dr. Tumialan did such a good job that he didn't even have to move my spine to get to the tumor," Eddie said. The fact that he didn't have to move my spine means I'm not at risk of getting scoliosis later in life."
Eddie said it took a while for the numbness and other symptoms to go away, but he couldn't be happier with the outcome.
"I feel like I have my life back again," he said. "It used to be that even walking was uncomfortable, and I eventually had to give up running, which is something I've always liked. Now, I run, work out and do everything I used to do."
If you're living with back pain, explore treatment options.