Research and clinical trials are essential to the evolution of healthcare. They drive discovery, test theories, and either validate or disprove hypotheses. Regardless of whether a new therapy or medication is proven effective, the research process itself gives investigators a better understanding of diseases and ways to treat them. For patients, research and clinical trials mean being part of advancing medicine and, in some cases, having access to therapies and medications that are otherwise unavailable.
David Saperstein, MD, a neurologist at HonorHealth Neurology, says research is an organic part of the care continuum at HonorHealth.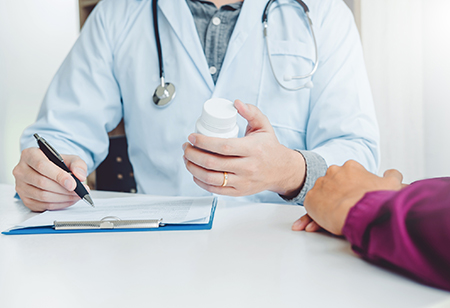 "We view research as an extension of caring for our patients," he said. "We offer a full array of standard and state-of-the-art treatments. If there are clinical trials available for a patient's condition and it's an appropriate fit, we'll offer that as an option as well."
All research activities at HonorHealth fall under the umbrella of the HonorHealth Research Institute. Participation in research studies is never a guarantee or a requirement. Patients are never pressured to participate in a clinical trial, and their treatment plan is never negatively affected if they decline.
"We do whatever we can to provide the best care for patients with neurological diseases," Dr. Saperstein said. "It's about doing whatever helps the patient, whether it's giving them a walker, a brace, a drug, or access to a clinical trial."
Dr. Saperstein says most clinical trials study whether a certain therapy is helpful in treating a particular disease or condition. He notes that currently the majority of neuroscience research activities at HonorHealth center on conditions like multiple sclerosis, neuropathy, amyotrophic lateral sclerosis (also known as ALS or Lou Gehrig's disease), dementia, CNS tumors, traumatic brain or spinal cord injuries, chronic headaches and migraines, and multiple disorders of the spine.
"We have certain diseases that we specialize in and this determines what neurology research studies are occurring at HonorHealth," said Dr. Saperstein. "Over the next few years, we expect this to broaden as additional specialists join us."
Some clinical trials focus on drugs and medications that have not yet received FDA approval to determine whether they could be useful in treating specific conditions. If the study is successful, the next step is to navigate the drug approval process. Other studies evaluate the use of already-approved drugs to treat other conditions.
The very process of research means that no two clinical trials are alike, and the timelines vary greatly from one study to the next. Some may take months while others take years to complete. Depending on the results, the process of approving a new therapy or drug for mainstream use can be exhaustive and time consuming.
"Nothing happens overnight, especially when it comes to clinical research," Dr. Saperstein said. "However, the long-term gains prove that it's worth it."
Dr. Saperstein says patients who choose to participate in clinical trials are ultimately helping the community at large, and they have the potential to impact countless lives.
"Many treatments we now routinely use started as part of a clinical trial," he said.