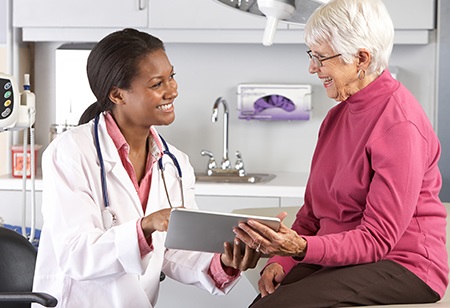 If wellness is a renewed focus for you, how do you find time to hash out a personalized wellness plan? Through an annual wellness visit with your doctor.
Different from an annual physical, your annual wellness visit is a 30-minute doctor's appointment that serves as a health consultation. Your doctor doesn't take your vitals or perform screening exams. Instead, you have an in-depth discussion about your health - what it is now and what you'd like it to be. Your plan will manage any existing conditions you may have and ward off those that may lie ahead. Each year, the two of you review and update your resulting wellness plan.
Paul Sieckmann, MD, chief medical officer for HonorHealth Medical Group, describes the annual wellness visit as an opportunity to be proactive and forward thinking about your health. For seniors, he says it's a time for you to have a heart-to-heart discussion with your doctor about ways to age gracefully and in the healthiest ways possible.
Is a wellness visit covered by insurance?
Many commercial insurance plans allow one free wellness visit per year in addition to the routine annual physical that generally requires a copay. However, because benefits vary by health insurance company and specific plan, it's up to you to confirm exactly what visits are included in your plan and the corresponding copays. An important factor to consider is that only certain things are covered during the annual wellness visit. If you ask your doctor to treat another issue on this visit, you may receive a bill for a co-pay.
Recognizing the value in having you collaborate with your doctors to proactively address health concerns, the annual wellness visit became a covered service option for Medicare and Medicare Advantage beneficiaries in 2011. While Medicare does not cover a traditional annual physical, it does cover an array of preventive screening services that complement the annual wellness appointment.
During your annual wellness visit, you and your doctor will create a health plan to help you better manage or prevent chronic diseases, manage your risk factors for a variety of health conditions, and answer any general health questions you may have. Visits typically include:
Reviewing your personal and family health history.
Creating/updating a list of your prescription medications.
Discussing ideal height, weight and blood pressure.
Noting any signs of cognitive impairment.
Identifying and addressing risk factors and related treatments.
Outlining an individualized screening schedule for preventive services, including vaccinations.
Discussing advance care planning, also known as advance directives.
Dr. Sieckmann says he makes sure he reviews issues important to seniors during their Medicare-covered annual wellness visits. He addresses such issues as balance and preventing falls, diet and nutrition, memory, vaccinations and end-of-life planning, among other topics.
Before scheduling your annual wellness visit and creating a workable plan for improving and/or maintaining your health for the coming year, confirm coverage benefits with your insurance provider.
To learn more and schedule your annual wellness visit with an HonorHealth doctor, call
623-580-5800
to
find a doctor
. You'll leave with a written plan for wellness and disease prevention that truly makes healthy personal.