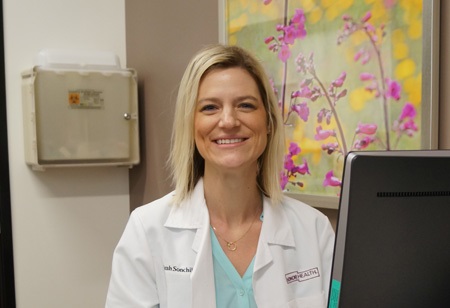 HonorHealth Medical Group's Del Lago family medicine practice recently moved into its new location in the HonorHealth Health Center in Peoria.
Located just west of the northeast corner of W. Happy Valley Parkway and N. Lake Pleasant Parkway, the practice is home to Aaron Boor, DO; Paul Gawelko, DO, and Sarah Sonchik, NP.
Address
10230 W. Happy Valley Parkway, Ste. 100
Peoria, AZ 85383
HonorHealth's newest health center — a $10 million, 25,000-square-foot project — not only has a thriving primary care practice, it also offers such services as:
Immediate care. Immediate care is less expensive than urgent care and much less expensive than an emergency room visit.
Laboratory services.
Infusion services.
Medical imaging.
Orthopedic care.
Pain management.
The primary care team members at the health center work with their patients to build long-lasting relationships. Although family medicine is the main focus, its physicians also are interested in sports medicine and the management of chronic diseases such as diabetes, asthma and chronic obstructive pulmonary disease.
In addition to primary care services, anyone needing non-emergency, immediate care can get same-day care from 8 a.m. to 8 p.m., Monday through Friday, on Saturday from 8 a.m. to 4 p.m. and on Sunday from 8 a.m. to 2 p.m.
"We're expanding services and providing care where our customers live and work across the Valley," said Nathan Anspach, HonorHealth Medical Group CEO. "Our health centers will feature hours and services designed with the community in mind. Our care will be focused on the needs of the patient and emphasize preventive services."
The primary care physicians at HonorHealth Medical Group's Del Lago office treat all ages, from newborns to seniors. New patients are welcome, and same-day and next-day appointments are available for your convenience.