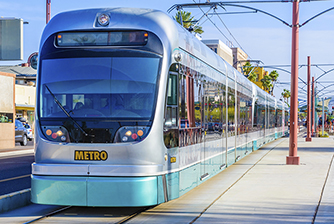 Phoenix, Arizona, otherwise known the Valley of the Sun, has more than 1.4 million residents and ranks as the nation's sixth most populous city. Spanning more than 500 square miles, it's geographically one of the largest cities in the country, even exceeding Los Angeles in size. Phoenix also is considered a destination for quality higher education, business and healthcare.
In fact, Phoenix is a leader in patient care, medical research and innovation. HonorHealth, which has five acute-care hospitals, extensive outpatient services, immediate/urgent care facilities, and close to 29 primary care centers, including 11 in Phoenix, is a key player when it comes to keeping Phoenicians healthy.
Blanketing Phoenix in primary care coverage
HonorHealth Medical Group's primary care doctors in Phoenix are united by a commitment to making healthy personal for every patient, ranging from newborns to seniors and everyone in between.
Physicians, nurse practitioners and other medical experts across all of HonorHealth Medical Group's conveniently located Phoenix primary care locations diagnose and treat everything from cold, flu and strep throat, to general aches and pains, minor injuries and allergies. These professionals also can:
Manage chronic conditions such as diabetes, asthma and high blood pressure.
Administer childhood vaccines and annual immunizations like flu shots.
Create wellness plans.
Conduct routine physical exams, including sports physicals for youth activities.
Your doctor can perform a comprehensive medication review to ensure there are no potential drug interactions among vitamins, supplements and medications that may be prescribed to you by different physicians such as specialists, dentists and naturopaths.
To make your office visit as convenient as possible, some HonorHealth Medical Group primary care physicians offer onsite lab and/or medical imaging testing. The rest of the primary care offices have lab techs for blood draws and are located close to HonorHealth medical centers or outside lab and imaging service providers.
Electronic health record
HonorHealth Medical Group's robust network of primary care physicians is connected via one electronic health record system. So if you see a doctor near your home in Arcadia, Tramonto or elsewhere in Phoenix and later need to follow up with a provider at a location near your job or school, your comprehensive health record is up to date and accessible to all HonorHealth Medical Group physicians.
This provides greater continuity of care and collaboration among the medical experts serving you.
Information collected and stored in HonorHealth's secure electronic health record system ranges from lab work, X-rays and other test results, to prescriptions and personal wellness plans. Your health record also includes notes and records related to visits you've made to an HonorHealth immediate care center, an emergency center such as HonorHealth Sonoran Health and Emergency Center, or HonorHealth Deer Valley Medical Center and HonorHealth John C. Lincoln Medical Center.
MyChart patient portal
Accessing your health information and interacting with your HonorHealth Medical Group primary care office is easy and convenient thanks to MyChart. A free, secure website, MyChart serves as a patient portal that lets you:
Schedule or cancel appointments online with your primary care physician.
Review test and lab results.
Email your doctor/provider with non-urgent medical questions and get a response within two business days.
Request prescription refills from your doctor/provider.
Review your medications, immunizations, allergies and health history.
Access patient education resources through nationally recognized sources. Review post-visit instructions.
Conveniently and securely pay your bills online for all of your HonorHealth accounts.
HonorHealth Medical Group primary care practices in Phoenix accept most insurance plans. At most locations, same-day and next-day appointments are available. All locations are supported by convenient HonorHealth immediate/urgent care centers, ensuring you have access to expert medical care from experienced providers in the evenings and on weekends.
Call the HonorHealth Medical Group Phoenix location in your area to schedule an appointment.
You can also find an HonorHealth Medical Group primary care physician in Phoenix by calling 623-580-5800.