"I hate cancer. But there's so much I love about it," said survivor Brandon, 29, of Tempe.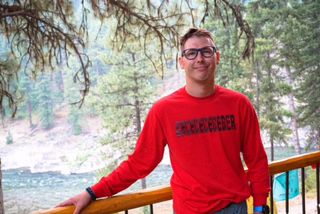 Two years ago, he was just 27 and a buff 210 pounds when he received a diagnosis of testicular cancer from specialists at HonorHealth Scottsdale Shea Medical Center. A UPS courier at the time, he has been having strange symptoms like nosebleeds, vomiting and headaches so bad he had to pull off the road.
"I was so fatigued at work I couldn't make it to 5 p.m. I couldn't perform," he remembered. Other couriers often had to pick up some of his stops. Finally, on Sept. 24, 2015, a sudden, sharp pain in his stomach while he was at work dropped him to the floor. "The pain was so bad, I cried."
Transported to Scottsdale Shea by ambulance, Brandon soon learned he had a mass in his abdomen. Many tests later, blood markers revealed Stage IIIA testicular cancer that had spread to his kidney, ureter and small intestine. At 27, he worried that cancer might take his life.
Next came aggressive chemo to shrink his tumors so surgery could be performed in January 2016. Unfortunately, it only shrunk them 3 percent, but Farshid Sadeghi, MD, a urologist on the medical staff with HonorHealth, successfully removed Brandon's left kidney, lymph nodes, testicle and part of his ureter and small intestine over nine hours. "He was amazing," Brandon said. "He saved my life. I'm in remission."
Challenge after challenge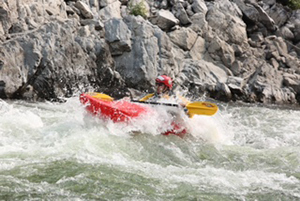 The road to recovery was, in a word, rough: His girlfriend left him in the middle of the struggle. Chemo left him hospitalized at one point and with lasting brain fog and memory issues. His weight dwindled to 159 pounds. In November 2016, Brandon discovered he had another tumor, on his left testicle this time. Although it was benign, he decided to have the organ removed. He wanted no trace of disease in his body.
He tried to go back to work as a courier but found he could no longer do it physically. "I had a lot of anger," he admitted. Eventually, his company found him a desk job. It pays less, but he's grateful for the job.
Meanwhile, Gerrie Jakobs, an oncology social worker with Virginia G. Piper Cancer Care Network, was counseling Brandon. "I knew he was bored waiting for reassignment at work," she said. Also aware that he needed a boost, she found a program that helps young cancer survivors pick up the pieces of their lives through outdoor adventure. First Descents, based in Denver, provides life-changing outdoor adventures for young adults (ages 18-39) impacted by cancer.
'It was so majestic'
"She went above and beyond, Brandon said. "She called them and got me a scholarship for a whitewater kayaking trip in Montana in August 2017. She even got me free plane tickets to get there. Her heart was truly in it for somebody else — me. If not for her, I couldn't have done it.
"It was the greatest thing I've ever done," he continued. "On a scale of 1 to 10, it was a 15! It was so majestic. I fell in love with kayaking. You become one with the river. You flow with it. You read it. Water is such a powerful thing. To master it was amazing."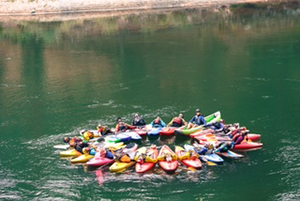 So were his 13 fellow kayakers. "There was not one negative vibe the entire week," he said. Although he certainly had tremendous struggles with his cancer, he realized that some of the young moms in his group not only had stage 3 or 4 breast cancer, they also had to care for their families while trying to beat the disease. "My life's not so hard," he concluded. "It really put things in perspective."
When he returned to the Valley, a longtime friend offered to buy him a kayak after finding out how much his buddy loved it. Brandon took Marshall up on it, pledging to repay him when he went back to work. He has since spent hours in his grandmother's pool, mastering what to do when the kayak flips. He's also planning a trip to Durango next summer for more whitewater kayaking with friends.
"What I learned in Montana I use every day now," he says. "I used to work a lot of 50-and 60-hour weeks." When friends called, he often turned them down, too busy or just too tired from working so much. "I thought I was invincible," he admitted. "Now I hardly ever say no when friends call. Life is short. I seize the opportunity."
The HonorHealth Virginia G. Piper Cancer Care Network offers many support services for cancer patients including social services, care navigators, support groups, nutritional counseling, exercise rehabilitation, complementary therapies, a cancer boutique, and fertility preservation.
Find a cancer specialist