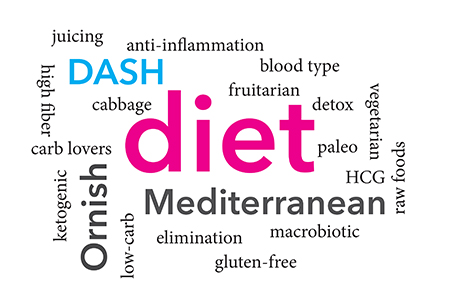 If you're struggling to reduce your blood pressure and want a simple approach to meal planning, you may want to look at the DASH diet.
DASH, or Dietary Approaches to Stop Hypertension, can help you reduce high blood pressure without medications. The U.S. National Institute of Research has done considerable research on the diet.
The philosophy of the DASH diet is to increase the fiber and protein along with potassium, calcium and magnesium in your diet. These minerals and nutrients should help you to reduce hypertension.
"Potassium and calcium are a double whammy of chemistry for reducing your blood pressure," said Eileen Bales, registered dietitian with HonorHealth's Cardiovascular Health Rehabilitation program. "A lot of healthcare providers advocate for this type of diet, as it can also help people who have high blood cholesterol and help prevent type 2 diabetes."
Eileen noted that the DASH plan can also help prevent cancer, stroke, heart disease, kidney stones and osteoporosis.
What to eat on the DASH diet:
Whole (unprocessed) grains: three or more servings each day.
Fruit: four to six servings each day. You can include frozen fruit, if needed, but keep an eye on any added sugars.
Low or non-fat dairy: two to four servings.
Lean meats, poultry and fish. No more than six ounces a day.
Nuts and legumes: three to six times a week.
What to limit
Sodium: Begin by limiting to no more than 2,300 milligrams (one teaspoon) a day and then aim for 1,500 milligrams (.75 teaspoon). This includes both what comes in the food you eat as well as any salt you add.
Alcohol: one glass per week.
Sweets.
What to avoid
Refined, processed foods (pizzas, salad dressings, canned soups, gravies, sauces, etc.).
Fatty meats (hot dogs, salami, ribs, etc.).
Full-fat dairy products, including butter and cream.
If you're a vegetarian, you can find a version of the DASH diet for you.
If you follow the DASH plan, expect to shop more frequently and spend time preparing meals. Cookbooks are available. "DASH is broad, which is one of the reasons we incorporate it into our patients' diet plans," said Eileen. "This plan is excellent for heart health."
If you or a loved one has heart disease, explore HonorHealth's heart and vascular services. You can read more about conditions and treatment options, and find a Phoenix-area cardiologist.