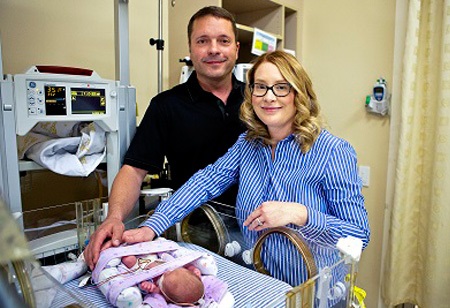 When Colt Wiesner was born at 28 weeks and two days' gestation — weighing a mere 2 pounds, 9 ounces — he was quickly whisked to the Neonatal Intensive Care Unit (NICU) at HonorHealth Scottsdale Shea Medical Center.
His parents Rebecca and her husband, Lawrence, were prepared for the possibility of a high-risk birth. Their first son, Duke, had been born at 34 weeks and required special care. With this in mind, they decided to have their second baby at a facility equipped to handle premature newborns.
"We chose this hospital because we knew the doctors and nurses would be prepared for anything there," said Rebecca.
The 24-bed NICU, funded in part through contributions to HonorHealth Foundation, provides specialized care for some of the Valley's most fragile and critically ill newborns. It's the only NICU in the northeast Valley with the state's highest possible Level III designation. It means that the NICU provides the most advanced care for newborns of any gestational age and offers care, when needed, for mothers with high-risk pregnancies.
Though reassured by the quality of care at Scottsdale Shea Medical Center, Rebecca and her husband were still anxious about their premature son. "As a parent, it's scary to see tubes and wires connected to your baby," she said.
"We get to see miracles every day," said NICU nurse Amanda Mock.
Rebecca is grateful for the miracle that touched her family's life and is thankful to those who support HonorHealth's efforts to help even more high-risk newborns. "We are so grateful to everyone for their support of the NICU through the HonorHealth Foundation."
Lend your support to the babies and families of the Neonatal Intensive Care Unit by donating online.