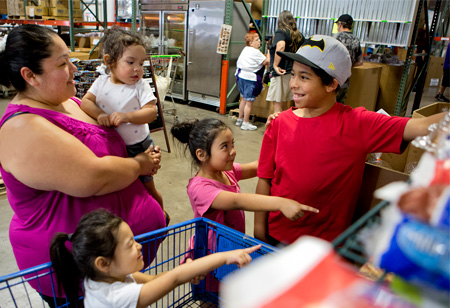 Did you know that the HonorHealth Desert Mission Food Bank provides much-needed food to 250 to 350 households each day? And that it often serves more than 400 households daily during the fall and winter holidays?
Teresa Cadena and her family are one of the households that relies on the Food Bank to help make ends meet. She was introduced to Desert Mission when she and her husband found themselves new to Phoenix, expecting their third child and without a place to live. They were unable to meet their basic needs, but Desert Mission helped get their family back on its feet.
"Desert Mission pointed us to a family shelter in the Sunnyslope area," she said. "We used every program Desert Mission had available."
One was the Food Bank, which offers emergency food and food security programs to local families. Located on the HonorHealth John C. Lincoln Medical Center campus, the Food Bank was established more than 80 years ago. Ever since, it's been helping families like Teresa's who may otherwise go hungry.
"You can get the help you need when you need it," she said about the emergency food boxes. "But you also can go make a contribution and purchase food for an inexpensive price. There are times when we have $15 to our name, and we can go in there and purchase meat and vegetable products. For such a huge family, it really helps," said Teresa, who now has four children. "They also have toiletries and diapers. It's amazing the type of resources they have available for families in this area."
In Arizona, 19 percent of residents struggle with food insecurity, which means they're unable to afford or access enough food to regularly feed everyone in their household. Nearly 30 percent of Arizona children face hunger, well above the national rate of 22.4 percent.
These statistics are a reality for Teresa and her family, along with many of their neighbors. Contributions to HonorHealth Foundation help ensure that the Food Bank will be there for members of the community when they need it most.
"I don't know where we would have been if it wasn't for Desert Mission," Teresa said.
You can support Desert Mission Food Bank and other HonorHealth programs by donating online.
Because Desert Mission is a qualifying charitable organization, your contribution may be eligible for an Arizona Tax Credit.