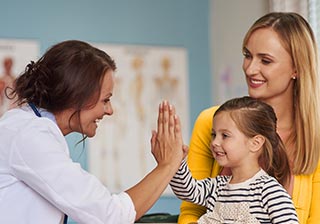 A hospital visit can be stressful for anyone, but it can be especially difficult when a child is involved. That's why HonorHealth offers two Children's Emergency Departments— one at Scottsdale Shea Medical Center and one at Deer Valley Medical Center— to help take the scary out of the experience.
These specialized facilities are designed around the unique medical and emotional needs of children. Less stress can make the whole situation more comfortable for both you and your child.
Here are three reasons to choose an HonorHealth Children's Emergency Department:
Latest technology: Treating children often requires smaller medical equipment and more customized medication dosing. To ensure that your child always gets the right treatment for his or her age and condition, the two HonorHealth children's ERs are equipped with the latest medical technology designed for younger patients. If your child needs diagnostic imaging, tests using low-dose radiation ensure your child's safety.
Learn more about HonorHealth's Children's Emergency Departments:
Caring experts: You need experts who are experienced with the changing needs of children at different ages, and who can provide care that grows with your child for years to come. That's why HonorHealth nurses and board-certified emergency physicians in the Children's Emergency Departments are specially trained in pediatric emergency care. In addition, child life specialists are on site to provide calming and informative support for your child.
Kid-friendly facilities: Because large clinical environments tend to be overwhelming for younger patients, HonorHealth's kid-friendly emergency departments are designed with child psychology in mind. Colorful artwork makes the environments feel cheerful and welcoming. The ERs also feature:
Registration and waiting areas separate from the adult ER to reduce feelings of intimidation.
Private rooms to help children feel safer and more secure.
A range of appropriately sized beds based on age and height, so that children don't feel lost in an adult bed. Adult-sized beds are available for teenage patients.
It all adds up to a better experience for your child and for you when there's a medical emergency.
In a life-threatening emergency, call 9-1-1.