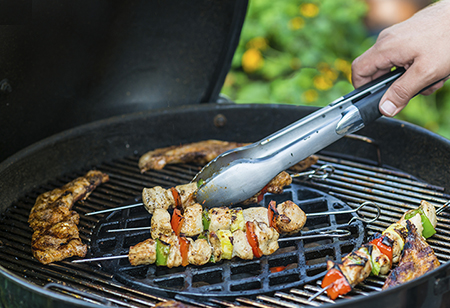 Dr. Aaron Boor, DO, a primary care physician with HonorHealth Medical Group Del Lago, has lived in Arizona for most of his life—leaving only to attend medical school and heading back to establish a primary care practice. So he knows that the great year-round weather in Arizona can only mean one thing: outdoor grilling, even in December.
If you ask Dr. Boor, here are his top 5 tips for great grilling technique:
Trim fat from meat before cooking.
Grill over low heat until done (usually to an internal temperature of 165 degrees).
Avoid adding salty spices.
Do not blacken.
Most importantly, don't rush it!
Meat, when prepared properly, is relatively healthy. Stick with a low-fat selection, watch portion sizes and be sure to complement whatever meat you're eating with a hefty dose of vegetables. This is the best way to keep cookouts healthy.
There's a reason they say "ask your doctor." Contact your HonorHealth doctor to answer your questions or call 623-580-5800 to find a doctor who can.
Dr. Boor is an Arizona native who believes "Prevention is key. Getting people to maintain a good diet and exercise is the mainstay of what I practice. We try to partner with you and provide motivation and information for making meaningful change."