HonorHealth Medical Group - Primary Care - Calavar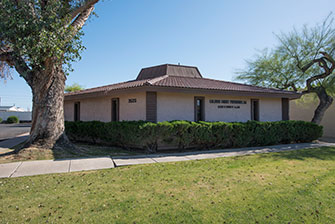 The primary care physician and staff members in this practice regularly go above and beyond to help their patients, listening carefully and making a personal connection. That connection is the focus of every patient visit.
As a primary care practice, the family doctor and staff offer a wide range of services to adults 18 and older. In addition to wellness exams, they treat illnesses and accidents.
The family physician and staff spend the time to explain treatments and procedures to make sure you understand. If you need help staying on track with medicine for chronic conditions such as COPD or diabetes, you'll find it here.
The office is accepting new patients and offers same-day appointments to ensure you get the care you need when you need it.
In addition to other insurances, the practice accepts AHCCCS, the Arizona Health Care Cost Containment program.
The office is located just north of West Thunderbird Road and North 35th Avenue, just down the street from Arizona State University - West Campus. It is in a center that has an animal clinic and a hair salon. Parking, within easy walking distance, is available in front of the building and throughout the center.
Patient surveys consistently rank the family doctor highly for the trust he establishes right from the start. Patients say they appreciate the extra time he spends developing that personal connection.
A community fixture since 1975, the family doctor and staff members of Calavar primary care practice look forward to serving as your healthcare partner.
Call for an appointment: 602-938-8150.
Primary Care Hours
Monday - Friday: 9 a.m. to 5 p.m.
See the Patient Resources page for forms, information about appointments, cancellations, billing and more.
Our Team
Contact & Location
Location:
HonorHealth Medical Group - Primary Care - Calavar
Address:
3525 W. Calavar Rd., Phoenix, AZ, 85053
Featured Services
Medical Group Services
Pulmonary function testing
Preventive care/Health screenings
Same day appointments
School/sports physicals
Skin issues
Pre-operative exams
Osteoarthritis and joint pain
Osteopathic manipulative medicine
Pap tests
Well child exams
Well woman exams
Women's Health
Wellness visits (annual)
Minor surgery/suturing
Complete physicals
Chronic disease management
Diabetes
Dermatology procedures
Cholesterol management
Breathing treatments (Nebulizer)
Assessment and treatment of all illnesses and accidents
Back pain
Blood pressure management
EKGs
Joint injections
Lab on-site
Liquid nitrogen treatments
Medicare physicals
Immunizations
Family medicine
Finger-stick testing
Health risk assessment
Headaches and migraines