Cancer Transplant Team
The Cancer Transplant Team is dedicated to providing you with comprehensive and compassionate care and keeping you informed throughout your treatment.
Our expert physicians, caring nurses and supportive staff at the HonorHealth Cancer Transplant Institute will work with you to develop a personal treatment plan to battle your cancer. You also have access to groundbreaking clinical trials. Knowing you're in good hands means you can focus on getting better.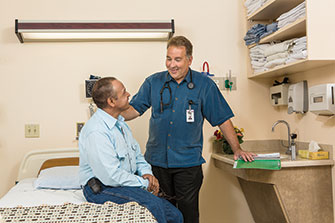 Expert Physicians and Staff
Our expert physicians are on staff at Arizona Oncology and provide cancer transplant services exclusively at the Virginia G. Piper Cancer Center at HonorHealth.
Our team of highly skilled nursing staff includes nurse practitioners specially trained in oncology and stem cell transplantation. Our compassionate support staff is here to help you address the anxiety and emotional distress that often accompany cancer to help you move forward to healing. We're with you every step of the way, providing a wide range of support service.
Compassionate Support Staff
Our caring staff is with you every step of the way, offering you a wide range of specialty support services. Our team consists of:
Coordinators: Transplant coordinators are involved in your care from your first consultation with the transplant physician, ensuring your treatment runs smoothly. They will:

Coordinate the appropriate tests and procedures before, during and after your transplant.
Serve as a liaison between you and your insurance company to obtain authorization for the transplant and other care.
Coordinate services with all members of your care team to create a treatment plan that meets your healthcare needs.
Clinical Educators/Individualized Nurse Case Management
Clinical Nurse Specialists (CNS) are responsible for the educational information for the patients and family members, as well as, the nursing staff. They facilitate patient-focused activities, such as caregiver classes, support groups for patients and their families and therapy programs. The CNS is also responsible for program development, such as overseeing the collection of quality of life data.
Dietary/Nutritional Counseling Services
You'll be assigned a dedicated dietitian who will work closely with you and your family. The dietitian will:
Determine eating habits and then provide information about what foods are appropriate during the process.
Discuss the low bacteria diet required during a hospital stay.
Calculate individual nutrition needs.
Evaluate the effect of your medical condition on nutrition needs.
Help you make appropriate food choices before and after transplant. Once you are discharged from the hospital, the dietician helps you and your caregiver plan the right food choices.
Financial Counseling Services
Cancer's financial impact can be complex and overwhelming. Our patient benefit representative (PBR) specializes in transplant services and is dedicated to meet your needs. PBRs are an extension of our business office and provide guidance through financial issues. They are also available to address your questions and concerns about treatment costs, insurance inquiries and verifications. For patients whose insurance coverage is inadequate or whose insurance company chooses not to cover services, our PBRs can help identify assistance programs that might help fill in the gaps.
Pharmacy
Your pharmacist is a valuable member of your healthcare team and can provide a wealth of information about the medicines you take. As a transplant recipient, you'll get to know your pharmacist very well. Pharmacists are experts in medicine and its side effects and can help you learn how to correctly use medication.
Social Worker
A social worker completes an assessment of each patient prior to transplant. The social worker role may have some variation at each center. Social work services are available to you and your family, as well as the donor. The social worker provides support, education and counseling to reduce stress during the transplant process. Social workers usually have extensive knowledge of the community services provided to transplant recipients. The social worker acts as a sounding board so that you and your family can feel comfortable having open discussions. The social worker may also be able to advise on Medicare, Medicaid and other insurance-related issues.
For additional information about peripheral stem cell transplants available through the HonorHealth Cancer Transplant Institute, please contact the transplant team at 480-323-1573.