Make a virtual visit for a minor ailment.
From the ease and convenience of your tablet, smartphone, computer or laptop, you can see a nurse practitioner from the HonorHealth Medical Group. A virtual visit for an immediate health need will save you time and money.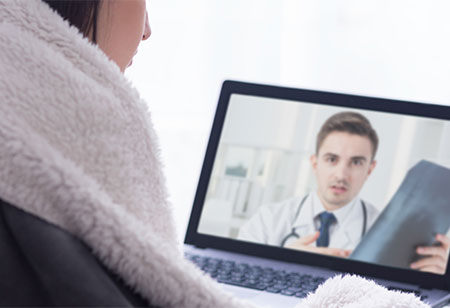 Virtual visits are available from 8 a.m. to 5 p.m. Monday through Friday.
Get a diagnosis, treatment, prescription or a follow-up visit.
Cost is $49 payable via credit card.
The fee may be as low as $10 for employees of select companies.
Your visit will be free if you're referred for in-person care.
Visits are conducted through secure video and audio.
For technical support, call 480-739-0077.
Download app from Apple/iTunes
Download app from Google Play Store/Android
Common ailments/conditions treated via eVisit:
Abrasions (wounds) – minor.
Acid reflux.
Allergies.
Conjunctivitis (pink eye).
Cough, colds, bronchitis and flu symptoms.
Rash/hives.
Sprains – minor.
Conditions NOT appropriate for eVisit*:
Abdominal pain.
Allergic reaction.
Animal bites.
Chest pain.
Eye injuries.
Shortness of breath (difficulty breathing).
Work-related injuries.