HonorHealth's team of experts include neurosurgeons, neurologists, neurohospitalists, interventional neuroradiologists, oncologists, physiatrists and anesthesiologists specializing in pain control.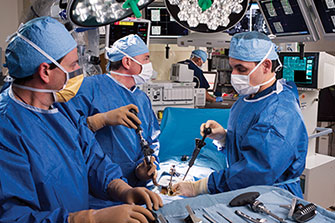 Admission to a neurological/neurosurgical ICU led by a neuro-intensivist has been associated with:
Improved outcomes.
Lower mortality rates.
Shorter length of stay.
Lower total costs of care compared with a general ICU setting.
HonorHealth offers treatments for:
Ischemic stroke.
Intracranial hemorrhage.
Status epilepticus.
Neuromuscular respiratory failure.
Myasthenia gravis.
Infections of the brain.
You can learn more about HonorHealth's treatment for:
Locations
John C. Lincoln Medical Center
250 E. Dunlap Ave.
Phoenix, AZ 85020
602-943-2381
HonorHealth's John C. Lincoln Medical Center is the only hospital in Arizona headed by a UCNS (United Council for Neurologic Subspecialties)-certified neuro-intensivist. Neuro Critical Care Services offer close monitoring of brain recovery during critical illness by using advanced EEG, brain oxygenation, jugular venous pulse oxymetry, and continuous ICP sensors. Patients have access to advanced hypothermia and normothermia devices as well as minimally invasive cardiac function monitoring.
Scottsdale Osborn Medical Center
7400 E. Osborn Road
Scottsdale, AZ 85251
480-882-4000
The neurosciences team at Scottsdale Osborn Medical Center includes Barrow Neurosurgical Associates neurosurgeons, neurologists, minimally invasive spine surgeons, interventional neurological radiologists, oncologists, physiatrists and anesthesiologists specializing in pain control. We offer the most advanced treatments for a wide variety of neurological disorders.