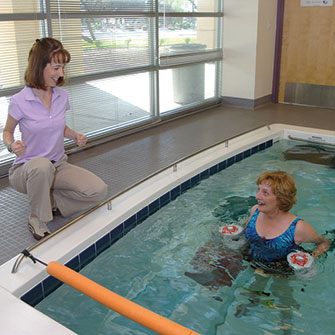 If you've recently experienced an injury, it might be hard to sit or stand. Pressure on your joints or back can make daily living painful.
Scottsdale Shea Medical Center offers aquatic therapy — physical therapy in a pool for:
Back pain.
Ankle sprain/fracture.
Knee pain.
Neurological disorders.
Recovery from surgery and other issues.
Specialists will guide you every step of the way, using the combination of water and physical therapy exercises to minimize pain and help you heal. Before you know it, you'll be able to enjoy your favorite sports or activities.
A Powerful Technique
Using the latest aquatic treatment techniques, HonorHealth's highly trained therapists can use weight-bearing exercises to help you regain your strength and return to normal activities faster.
Water supports your body, decreasing stress on joints while strengthening and stretching your muscles. Plus, the water's added support minimizes pain as you exercise. It also protects the injured part of your body as the water applies light pressure that can help decrease swelling.
If returning to a sport is your goal, aquatic therapy can provide a challenging workout while still protecting and supporting your injury.
HonorHealth's licensed therapists will:
Evaluate you and your health history.
Discuss your therapy goals.
Work closely with your physician to develop a personal treatment plan — focusing on the area where you need support the most.
During each session, you'll receive one-on-one support in the pool to help you make progress safely and quickly.
To make an appointment, please call 480-882-4934.