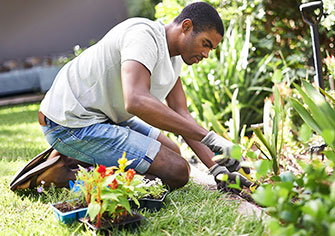 Are you first guy to charge into a major home improvement project? Sign up for the office hoops tourney? Or host the big weekend party?
Hold on fella… and follow these tips to harness that energy and take care of yourself at the same time.
1. Dream team. Your idea of exercise lately is a few fist pumps watching the big game. So, in your head, of course you're ready to slide right into that softball league. But maybe your body is not. If you've been fairly sedentary, don't rush in and overdo it. Focus on your warm up for several weeks (or months, couch potato). Think stretching, brisk walks, family bike rides, basketball with your son, catch with your daughter.
2. Garden guru. You decide to plant the back 40 - that's how it will feel on your back and budget if you jump in with both boots. Start small. Go for a few family-friendly vegetables and herbs. Enlist the kids to help. Reap the benefits: a $2 tomato plant can yield as much as 10 pounds of fruit in a season.
3. Put me in coach. Your kid's team needs an assistant coach. This commitment goes way beyond the weekend game so ask plenty of questions first: how many practices per week, is the practice location close to home or work, are there team volunteers to help with uniforms or fundraising, do I foot the bill for anything? If you can manage it, coaching can be a great way to squeeze in some exercise and extra time with your child.
4. Diet buster. It's easy to ditch the diet on action-packed weekends. Stay strong. Limit alcohol and up the water intake. Work in a work out. Try out a new low-cal recipe. Check out the restaurant menu before even sitting down. Rally the family for a walk after dinner. Hang out with the guys – hoops anyone?
5. DIY. Admit it, you're itching to try out that new power tool. Take your hand off the trigger and reach for safety googles or glasses, gloves, a dust mask, hearing protection and any other gear you'll need. And save the flip flops for the pool.
6. Gym time. Shiny new gym membership = new you, right? First, consider whether you can commit the cash and time to a gym routine. Is a bike ride to work or 30-minute run on your lunch hour more manageable? Next, address any existing health concerns – painful joints, fatigue, frequent headaches – with your primary care physician. Then, develop a wellness plan, which may or may not include a gym. Need a physician? Use our Find-a-Doc page or call 623-580-5800.
7. Party guy. Toss that steak on the grill, but offer a few lean proteins too. Skip the chips and go for crunchy raw veggies. Think fruit and cheeses for dessert. Offer bottles of water and iced tea alongside the cooler of adult beverages. Shake off the stress of the work week with a father-son game of bocce ball or horseshoes.
8. Helping Hand. You're over-committed as it is and now you've been asked by a colleague to help out with a huge charity golf tournament on Saturday. Take a pass and consider one-time weekend projects that also benefit the community: a city park clean up, neighborhood tree planting, canned-food drive. Involve the whole family. Giving back never felt so good.
9. Ready, set, go. Sign up for that 5K run and then enlist family and friends to train with you. Consult your physician if needed and allow for plenty of time to prepare. If you're a beginner, consider a mix of running, walking and resting to avoid injury. You don't want "Ready, set, oh."
10. Time off. Give your inner weekend warrior a break. Catch up on sleep, read for pleasure, unplug with a family game night, and enjoy the view of that newly-planted garden.