You are the master of your domain at the grill. Juicy steaks and big ol' baked potatoes. Sirloin burgers topped with slabs of cheese. Beer brats and foot-long dogs.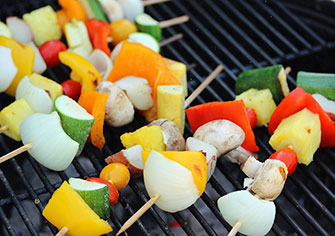 Of course, you round out the menu with sweeten baked beans, butter-soaked corn on the cob, chips and dip, and your favorite fudgy brownies.
Then again... maybe its time for a change. Grilling is as much a national past time as summer, baseball, Father's Day and perfecting slow cooked brisket. But we simply can't eat like a BBQ champion every day and maintain a healthy lifestyle.
Next time you get your grill on, follow these tips for serving up a great tasting - and great for you – meal.
Boost your burger. Swap out the beef for a portabella mushroom and serve up the "steak" of veggie burgers. Top it off with a thin slice of provolone, lettuce, tomato and a toasted whole wheat bun.
Go for that steak but grill up heart-healthy sweet potatoes as your side. Cut the potatoes into wedges topped with a cilantro-lime dressing and wait for the "wow."
Kabobs are easy crowd pleasers. Think lean chicken and pineapple chunks. All-veggie skewers. Lemon garlic shrimp. Just watch out for calorie-laden marinades.
You don't have to banish bratwurst but try a healthier chicken brat instead. Let the brats get to room temperature, brush lightly with olive oil and grill over medium heat. A bean salad is a quick and easy side.
Try grilling a few crispy margherita pizzas. Go easy on the cheese and focus on flavorful olive oil, tomatoes and basil. Add a green salad and you're all set.
No need to skip dessert. Grill up good-for-you peaches, plums, pineapples, nectarines or cantaloupe. Drizzle with a simple syrup or pair with a small scoop of vanilla ice cream.