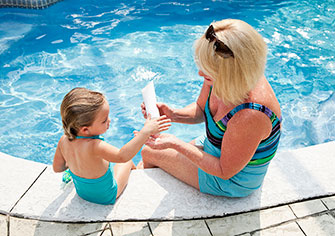 Summer is the season for memories. Family vacations, road trips, camping and swimming, or a trip to the Grand Canyon… these are the experiences that you will cherish for years to come.
Other reminders are the stings, sunburns and thunderstorms that also come with the July heat. Things that require just a little more preparation to make sure you remember summer for all the right reasons. And if you're planning a big trip or an extended weekend, here are some reminders to keep the whole family safe and the memories on video.
Protect your skin. We all know the basics, but do you apply sunscreen as part of your regular outdoor routine?
Avoid too much time in the heat. Excessive heat can lead to heat exhaustion and/or heat stroke. Do you know the warning signs? How much water are you taking with you and will there be shade?
Treating summer stingers. Heading to the great outdoors? For snakes bites, always call 9-1-1. For bee stings, remove the stinger immediately, apply a cold compress and watch for allergic reactions such as difficultly breathing or swelling that does not subside. For scorpions, wash the sting area, apply a cold compress and take a mild pain killer. If an allergic reaction becomes evident, seek medical attention immediately.
Practice water safety. Playing in any body of water comes with a heightened sense of responsibility, especially with children. Does everyone in your family know CPR?
Monsoon hazards. Dust storms can cause serious health problems. When a dust storm is headed your way, stay off the road and seek shelter indoors to avoid dust inhalation. If you get caught outside in a dust storm, try to cover your nose and mouth with a tissue or loose clothing until you can get inside.
You have some big plans. We'll be there if you need us, but hopefully you won't. Play it smart, play it cool, and have a great summer!