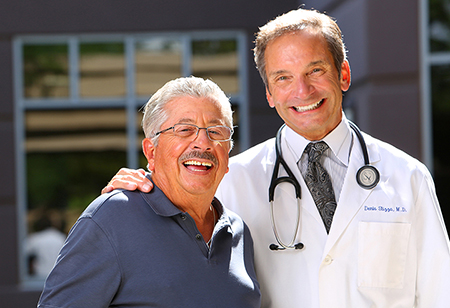 He had a five percent chance of survival on Feb. 18, 2015.
Art, a Scottsdale resident, made it, despite a ruptured abdominal aortic aneurysm. It's what his doctors at HonorHealth Scottsdale Thompson Peak Medical Center call a "Triple A," when the body's major artery springs a leak from a ballooning weak spot, often resulting in death.
He made it despite being on the blood thinner Coumadin for atrial fibrillation. The drug only worsened the internal bleeding.
He made it thanks to a concerted effort from doctors, nurses and other staff members at the hospital.
"I was in so much pain," Art remembered. It started at a community meeting. "I stood up, and the pain in my back almost knocked me over." He managed to drive the mile to his house, told his wife about his severe pain and heard her say, "Take a couple Advil." Sheila soon realized it was serious and drove her husband to the Thompson Peak facility. "We didn't think we had time to wait for an ambulance," Art said.
After helping him into a wheelchair from the car, hospital staff rolled him straight back to a treatment room. "That hospital and staff did everything right — everything they were supposed to do and beyond!" Art said.
'Everyone Came Together'
"It wasn't his time," said Denis Stizza, MD, the emergency room physician who quickly suspected the Triple A. "Art's blood pressure dropped a couple minutes after he arrived at the ER. At first I thought he might have a kidney stone, and I ordered morphine for the pain. His blood pressure came back up after we administered fluids, then dropped again. Those blood pressure drops and his deteriorating condition made me suspect the Triple A. We didn't leave his side at that point."
Two nurses, Dr. Stizza and Sheila accompanied the 72-year-old patient to Radiology for a CT scan. Another nurse alerted the O.R. team.
"Art was the sickest person in the hospital at that moment, and everyone came together to save his life," Dr. Stizza said. "It was a total team effort." For example:
The radiologist dropped what he was doing to perform Art's CT scan.
Dr. Stizza confirmed the Triple A diagnosis as soon as Art's leaking aorta appeared on the screen in the CT booth.
A charge nurse made calls for a vascular surgeon as the ER team rolled Art back to the ER. Dr. Stizza ordered medications to maintain Art's blood pressure and reverse the effects of the Coumadin.
As the O.R. team prepared for Art's surgery, Dr. Stizza, three nurses and a charge nurse rushed him to the O.R. where anesthesiologist Stephen Chung, MD, was waiting.
Record Time on 101
Working with patients near Scottsdale Shea Medical Center, vascular surgeon Stephen Smith, MD, got the call from Thompson Peak. "It turned out I was third vascular surgeon on the list," he said. The first was in the middle of another case, and the second vascular surgeon on site at Thompson Peak was not feeling well.
Dr. Smith ran to his car and made the 10-mile trip on the 101 in record time. "The O.R. was set up for an open surgery," Dr. Smith said. "But when I looked at the CT scan, I thought I could do it with less invasive surgery. With Art's blood pressure instability and the Coudamin, an open surgery would have been even riskier."
Dr. Chung placed Art under conscious sedation instead of general anesthesia to boost his chance of survival. Dr. Smith threaded an endovascular graft through a tube inserted into a tiny incision in Art's groin. Dr. Smith guided the graft — a woven tube covered by a metal mesh support — to the damaged spot in the aorta, repairing the leak. "We completed the surgery in less than an hour," he said.
"Art had a 95 percent chance of dying before he got to the hospital," Dr. Smith noted. "When he made it to Thompson Peak, he had a 50-50 chance. He probably lost two liters of blood. He's a lucky man."
In Tears
Art is beyond grateful for his life. "Everything was aligned. The most amazing thing was that everybody involved — doctors, nurses, staff members, volunteers — in saving my life came to my hospital room the day after surgery. Many of them were in tears. They said they were so happy to see me alive."
Everyone involved in his care "thought of every detail," he said. Doctors advised Sheila to call someone to stay with her in the surgery waiting room. "Then they had someone waiting for our daughter to arrive at the hospital entrance," Art said. "Someone even brought Sheila cookies. There was so much empathy."
Dr. Stizza noted Sheila's composure throughout the ordeal: "She held herself together every step of the way. She was a trooper."
Post-surgery, Art wasn't out of the woods yet. Almost two liters of blood had accumulated in his abdomen and needed to be resorbed by his body.
"I spent two days in the ICU, six days in a regular hospital room, and then several days in a rehab center," he said. "I had no strength, no stamina. I had to build it up again. Today I feel great. Thompson Peak Medical Center is special."
Have concerns about your heart health? Contact us to benefit from a personal healthcare relationship at HonorHealth.