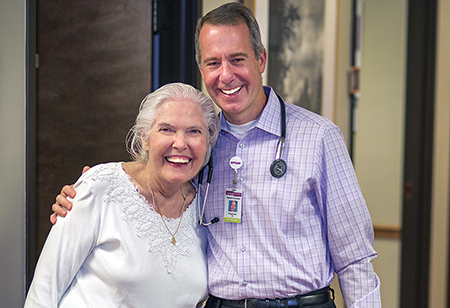 It's no surprise: A great relationship with your doctor is important to your health.
Just ask Phoenix resident Pat, 74. She and her husband, Bob, would drive across town to see their primary care physician, John Williams, MD. From the beginning, they valued their relationship with their physician because of the personal care and attention they received. When Pat's husband of 39 years passed away, Dr. Williams comforted Pat as if she were a member of his family.
That personal relationship continued through the decades and past Dr. Williams' retirement in 2013. Pat continues to be a patient at HonorHealth Medical Group's Hatcher office under the care of Patrick Knowles, MD. "I feel so cared for with Dr. Knowles. I am not a number; I am someone he listens to. He's a kind human being," she said.
Lack of Support Network
Pat faced her own health challenges a few years ago when she had gallbladder surgery at HonorHealth John C. Lincoln Medical Center and a subsequent visit to HonorHealth Deer Valley Medical Center for treatment of gastritis. Upon discharge, Pat worried about recovering without a personal support network.
However, she was eligible for the HonorHealth Transition Specialist program. Its medically trained military veterans assist recently discharged hospital patients transition to home or another care facility. With their help, she regained optimal health through home visits and medical and emotional support from transition specialists Louis, Chris, James and Ken.
"They gave me the confidence that I could do what I needed to do to be healthy and make it on my own," Pat said. The regular interactions between Pat and her health coaches have given her the strength she needs to take on almost any health challenge.
Chest pain and stomach issues recently tested her resolve again. Care during stays at John C. Lincoln Medical Center revealed that she had a heart arrhythmia and later, an ulcer. Once again, Dr. Knowles and her transition coaches are helping her recover.
"I had my own personal miracle. You've saved my life a few times, and the support of Dr. Knowles, Louis, Chris, James and Ken has been very special to me," she said.
Looking for a great primary care physician of your own? Contact us at HonorHealth.