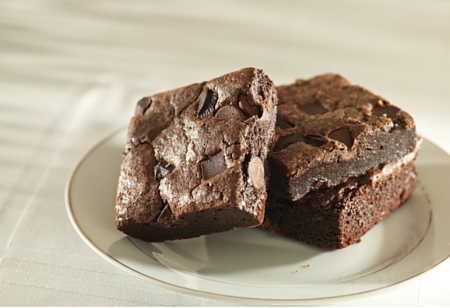 Does the name: Fudgy Black Bean Brownies scare you? Don't let it! If you're the kind of person who believes preparing food is a way of loving those around you, this recipe is for you! These brownies say "I Love You" to the recipient AND their heart!
They are moist with a rich chocolate flavor, but don't include the refined sugar, butter or flour that can lead to weight gain and, ultimately, to heart issues.
Fudgy black Bean Brownies Recipe:
Ingredients:
15 small, or 10 Medjool, dates, pitted (1/2 cup packed).
1 (15-ounce) BPA-free can organic Black beans, drained and rinsed.
4 large Egg whites or 2 Tablespoons Chia seeds gelled in 6 tablespoons water.
1/2 cup unsweetened applesauce.
1/3 cup BPA-free canned pure pumpkin.
1 teaspoon pure vanilla extract.
1/2 cup unsweetened cocoa powder.
1/4 teaspoon salt.
1/2 teaspoon baking soda.
3/4 cup mini semi-sweet chocolate chips.
Baking Instructions:
Preheat oven to 350° F.
Line 8 X 8-inch baking dish with parchment paper.
Finely chop dates.
Add all ingredients, except chocolate chips, to high speed blender or food processor.
Process until smooth.
Add 1/2 cup chocolate chips to batter.
Stir to mix.
Pour batter into prepared baking dish.
Sprinkle with remaining chocolate chips.
Bake in preheated oven for 30 minutes.
Remove from oven. Let cool for 5 minutes.
Transfer to cooling rack. Completely cool before cutting into squares.
Cut into 16 squares.
Refrigerate in airtight container for up to 5 days or freeze for up to 3 months.
Yield: 16 brownies.
Approximate nutritional breakdown per 1 brownie:
128 calories, 4 grams protein, 3.5 grams fat, 20 grams carbohydrate, 4 grams fiber, 74 milligrams sodium.