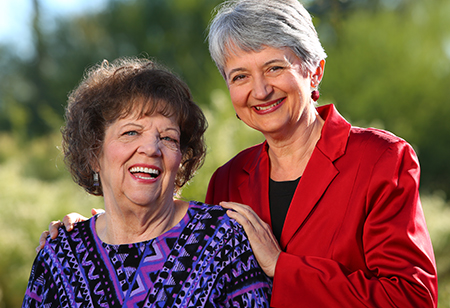 It's all about commitment.
Just ask Jeannie, 73, of northwest Phoenix. In only two years, she has shed 80 pounds, watched her blood pressure drop, and experienced much less discomfort from fibromyalgia and arthritis. She's also stronger physically.
The transformation began with an appointment with Karla Birkholz, MD, a family physician at HonorHealth Medical Group's  West Union Hills Drive practice.
After examining Jeannie, Dr. Birkholz told her about the Wellness Center's many resources available at one location, including:
Nutritionist Debbie Richmond.
Fitness instructor Stevie McDonald.
Physical therapist Cary Bucko.
A wellness support group.
A small gym with exercise equipment.
"I've had a weight problem since I was a teenager," Jeannie said." I like Dr. Birkholz's philosophy. We we see eye to eye. I think about what I eat now. The great thing about Dr. Birkholz is that she listens. And the staff all worked together to help me."
Lean and Green
Debbie enrolled her in the Weigh to Go support group, and suggested a diet that included Medifast products ranging from a powder to snack bars. "I try to eat 'lean and green,'" Jeannie said. "Debbie told me not to bring anything into my house that I should not be eating. And I don't."
"It was a gradual change for Jeannie," Debbie noted. "Just like any journey, there were ups and downs. Her weight fluctuated, but she stayed engaged and brought it down. I was able to coach her and strategize with her. She was — and is — very determined. She knew what she wanted, and she embraced it.
"We also talked about her fibromyalgia and arthritis," Debbie continued. "The pain is aggravated by inflammation, and some foods, like sugar, can feed the inflammation. Exercise helps, too. I urged her to keep moving."
Jeannie sees Stevie, her fitness instructor, twice a week. She works with exercise bands and weights and pedals away on the recumbent bicycle. She also exercises at home. "Stevie recently brought me a casserole recipe that uses spaghetti squash," Jeannie said. "Like I said, it's a team effort."
"Jeannie's very willing," Stevie said. "She felt better and was able to do more. It's a credit to her. She has a great attitude."
One Hundred Percent Better
Physical therapist Cary helped Jeannie prepare for a knee replacement by strengthening the muscles around her knee. "I was up walking the same day as the surgery," she remembers. "I couldn't believe how quickly I recovered." Dr. Birkholz was impressed by how soon she was released from the hospital and rehab program, and how she's fully engaged in the activities of her life that she enjoys.
Jeannie enjoyed the once-a-week wellness group meetings where individuals discuss what's working for them and learn from guest speakers.
With so many resources and a unified team focused on her, Jeannie is thrilled with the results. She even volunteers at the practice.
"I've reduced my blood pressure medicine now," she said. "I can turn over on an exam table without any help now; I couldn't before. I'm 100 percent better. Everybody says they see a different person."