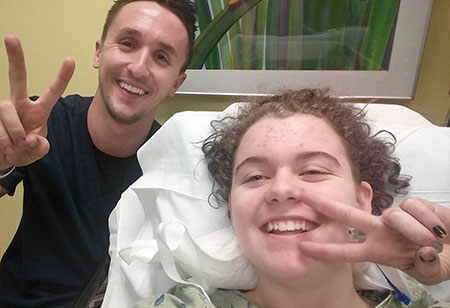 A few days before Christmas, Ava's brother found her on the bathroom floor, curled up in a ball, sobbing from severe abdominal pain and nausea.
The family went straight to the 24/7 pediatric emergency room at Deer Valley Medical Center, where they met Mike Fatina, RN. Ava, 13, and Mike are pictured left.
"My daughter has a hard time with IVs as her veins are small and roll. Her nurse that evening, Mike, went out of his way to make her comfy and get her IV started. She liked him so much that she took a selfie with him," said her mom, Chantelle.
After the third try on the IV, Mike stepped out of the patient room to talk to his supervisor. Ava also was dehydrated, which made the procedure more difficult.
"He didn't know I was listening," Chantelle said. "He said, 'Can I please have one more time on her other hand? It hurts so much in your foot.' I thought what a kind man to not want to hurt my daughter. I just wanted to cry. She's 13, but she's still my baby. The level of compassion was out of this world."
The fourth time was the charm.
"He felt so bad, trying four times to get an IV," Ava said. "I told him 'It's OK. It happens all the time. Let's make a memory. Will you take a selfie with me?' He was just awesome because four tries is nothing. He was the nicest guy."
The next day, Ava had her gallbladder removed, and she got to go home on Christmas Eve. The experience from start to finish was amazing, but Mike's compassion stands out, Chantelle said.
"Ava receives the most fantastic care every time we are there, and I am grateful it's close by," Chantelle said.