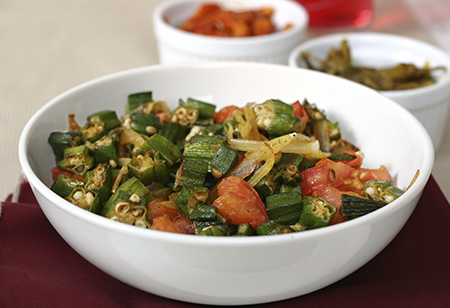 You might think of okra as that slimy vegetable from the South, but it's also local to Arizona and available from July through September. You also can buy it frozen at the grocery store. Rich in manganese, fiber, the phytochemicals lutein and zeaxanthin, and vitamins C, K and folate, okra helps with bone strength, vision and heart health.
Nancy McCutcheon, community outreach project manager at the HonorHealth Virginia G. Piper Cancer Center, shares her healthy okra recipe. Living in the South, Nancy enjoyed okra deep-fried and in traditional calorie-laden gumbos and creole. Now she prepares it in a lightened Southwestern style made with local produce. Eat this as a side, or pair it with chicken, salmon or tofu as an entrée.
Ingredients:
1 tablespoon extra virgin olive oil
½ pound okra, halved lengthwise
½ cup onion, sliced vertically
2 garlic cloves, thinly sliced
½ cup peeled, julienned tomatillo*
¼ teaspoon crushed red pepper
1 tablespoon butter
2 teaspoons chopped fresh oregano
1 teaspoon grated lime zest
½ teaspoon lime chipotle salt or kosher salt
Preparation:
Heat a large cast iron skillet over high heat. Your skillet needs to be hot to char the okra. Add oil to skillet; swirl to coat.
Add okra in a single layer; cook, without stirring, 3 minutes or until charred. Stir. Remove okra from pan.
Add onion and garlic. Cook two minutes or until lightly charred. Add tomatillo and pepper. Cook another one minute.
Remove pan from heat. Stir in butter, oregano, zest and salt.
Yield: four servings
Approximate nutritional breakdown per serving: 82 calories, 1 gram protein, 6 grams fat, 6 grams carbohydrate, 2 grams fiber, 296 milligrams sodium
*Variation: replace tomatillos with a small package of grape heirloom tomatoes, halved. Swap thyme for oregano and lemon zest for lime zest.
To register for a healthy cooking class at the HonorHealth Virginia G. Piper Cancer Center visit honorhealth.com/events.
Published on GreenLivingAz.com.