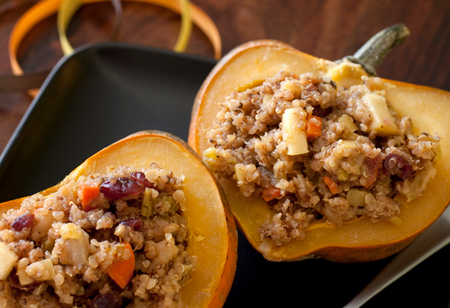 Terri Taylor, a registered dietitian at the HonorHealth Virginia G. Piper Cancer Center, adapted this fall recipe from chowhound.com
With their deep orange colors, winter squashes are rich sources of health-promoting phytochemicals called carotenoids. This dish can be a side or the center of your meal. You can easily modify your ingredients of choice — reach for quinoa instead of wild rice or toasted walnuts in place of pecans.
3 medium acorn squash (about 1 ½ pounds each), halved lengthwise and seeds removed
2 teaspoons olive oil
1 tablespoon packed dark brown sugar
½ medium yellow onion, finely chopped
2 medium shallots, finely chopped
4 celery stalks, finely chopped
1 tablespoon minced fresh thyme leaves
2 cups cooked wild rice blend 2/3 cup pecans, toasted and finely chopped
¼ cup dried cranberries, finely chopped
Kosher salt and freshly ground black pepper to taste
Heat oven to 450◦ Fahrenheit. Arrange rack in middle. Place squash cut-side up on a baking sheet. Brush tops and sides of squash halves with olive oil. Sprinkle with brown sugar and season with salt and black pepper. Roast in the oven until just fork tender, about 25 to 30 minutes.
Swirl olive oil in large frying pan over medium heat. Add onions, shallots and celery, stir to coat. Cook, stirring occasionally, until just softened, about 6 minutes. Stir in thyme. Cook until just fragrant, about 1 minute. Remove from heat. Stir in rice, pecans and cranberries. Season as desired with salt and black pepper.
Divide rice filling among the roasted squash halves. Continue roasting until squash is completely fork tender, the edges have started to brown and the filling is heated through, about 20-25 minutes.
Yield: 6 servings
Approximate nutritional breakdown per serving: 361 calories, 7 grams protein, 13 grams fat, 54 grams carbohydrate, 8 grams fiber, 193 milligrams sodium