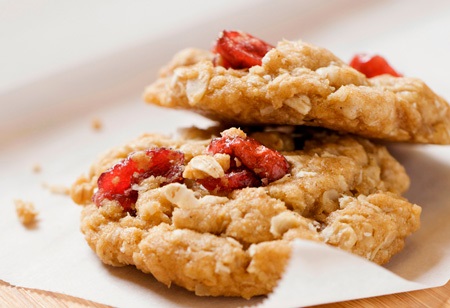 Cookies are a holiday tradition. A healthful and yummy cookie is truly a gift. Enjoy this fiber-rich and low-added-sugar gift from Terri Taylor, dietitian at the HonorHealth Virginia G. Piper Cancer Center.
Ingredients
¾ cup white whole wheat flour
¼ teaspoon sea salt
¼ teaspoon baking soda
½ teaspoon ground cinnamon
¼ teaspoon ground nutmeg
1 cup rolled oats
1 cup low-sugar dried cranberries
½ cup chopped pecans
¼ cup ground flaxseed
¼ cup extra virgin coconut oil, melted
3 Tbsps. packed brown sugar
1 teaspoon pure vanilla extract
Juice of one orange
1 whole banana, cut into pieces
1 Tbsp. grated orange zest
Instructions
Preheat oven to 350 degrees Fahrenheit.
Line a baking sheet with parchment paper.
In a large bowl, whisk together flour, salt, baking soda, cinnamon and nutmeg. Mix in oats, cranberries, pecans and ground flaxseed.
In a blender on medium speed, blend melted coconut oil, brown sugar and vanilla until sugar is smooth.
Add banana. Blend until banana is completely pureed. Add orange zest. Stir banana mixture into dry ingredients until well combined.
Drop batter by tablespoons onto a prepared baking sheet, to make 24 cookies. Flatten cookies slightly with the back of a wet spoon.
Bake cookies 15-18 minutes, until golden brown. Cool on baking sheet on wire rack for about five minutes. Remove cookies from baking sheet. Continue to cool on rack
Approximate nutritional breakdown per brownie:
94 calories, 1.5 grams protein, 4 grams fat, 13 grams carbohydrate, 2 grams fiber, 37 milligrams sodium.
Sign up for a healthy cooking class at the HonorHealth Virginia G. Piper Cancer Center.