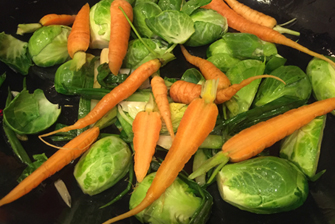 See how to prepare a quick veggie sauté. The recipe was submitted by guest contributor Melanie Albert*. This stir-fry was inspired by baby bok choy and fresh green garlic available through the Community Supported Agriculture program. Added to the stir-fry were other veggies from local farmers, along with sun-dried tomatoes and capers. During the middle of the stir-fry, she decided to de-glaze the pan with fresh lemon and add local Arizona citrus to the dish.
Ingredients
Organic extra virgin olive oil
Green garlic
Brussels sprouts
Carrots
Cauliflower
Sun-dried tomatoes
Capers
Asparagus
Baby bok choy
Sea salt
Fresh lemon
Preparation
Gather your mise en place (French for having ingredients prepared).
Preheat sauté pan on medium-high.
Pour organic extra virgin olive oil into the pan.
Add the aromatics (green garlic) and cook a few minutes.
Toss in veggies you'd like to brown a little (Brussels sprouts).
Add dense vegetables that need to cook a bit longer (carrots, cauliflower).
Toss in extras (sun-dried tomatoes, capers).
Add vegetables that do not need to cook very long (asparagus, bok choy).
Enjoy!
*Melanie A. Albert, intuitive cooking expert, author, and speaker, is founder and CEO of Experience Nutrition Group, LLC, in Phoenix, Arizona and author of "A New View of Healthy Eating: Simple Intuitive Cooking with Real Whole Foods". Learn simple culinary skills and how to cook intuitively with what's available in the local Community Supported Agriculture program. Read how to prepare a simple, delicious three-ingredient salad dressing, seasonal citrus salad and quick veggie sauté.