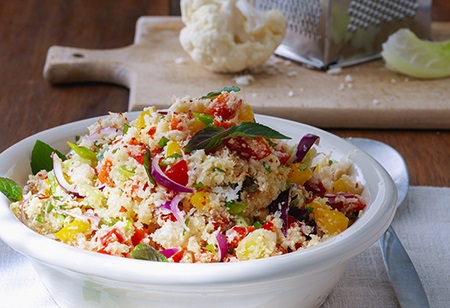 March is National Colon Cancer Awareness month. Simple lifestyle practices such as eating walnuts, vegetables in the cabbage family, less red and processed meats and more plant-focused meals are associated with lower colon cancer risk. This salad features colon-friendly ingredients to get you started.
Ingredients
3 tablespoons plus 1 teaspoon olive oil, divided
1 BPA-free can (15-ounce) garbanzo beans, drained and rinsed (or 1 ¾ cups cooked)
1/3 teaspoon ground cinnamon
1/2 head cauliflower, grated (about four cups) or package of cauliflower rice
2 cups tightly packed lacinato kale, destemmed and thinly sliced
2 cups red cabbage, thinly sliced
2 stalks green onion, chopped
4 Medjool dates, chopped
1/2 cup chopped and toasted walnuts
1/4 cup fresh lemon juice
2 tablespoons stone ground mustard
Sea salt and cracked black pepper to taste
Preparation
In a large pan over medium-high heat, pour one tablespoon olive oil.
Pat dry garbanzo beans. Add garbanzo beans and cinnamon to heated pan.
Toast for three to four minutes, stirring frequently. Remove from heat. Set aside.
Remove stems from cauliflower. Grate using a box grater or pulse in food processor to rice-size particles (skip if using packaged cauliflower rice).
In large bowl, combine kale with one teaspoon olive oil. Massage or knead kale leaves for about two to five minutes, until they're softened.
Add cauliflower, red cabbage, onions, dates, walnuts and garbanzo beans.
In a small bowl, whisk together remaining two tablespoons olive oil, lemon juice and mustard. Season to taste with salt and pepper.
Pour dressing over salad. Toss lightly until fully mixed.
Yield: four servings
Approximate nutritional breakdown per serving
429 calories, 12 grams protein, 21 grams fat, 48 grams carbohydrate, 11 grams fiber, 245 milligrams sodium
Sign up for a healthy cooking class at the HonorHealth Virginia G. Piper Cancer Center. To participate in the cancer center's Community Agriculture program that provides fresh local produce, call 480-323-1275