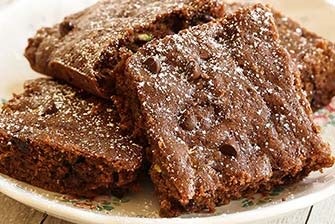 With the arrival of spring, zucchini and carrots are in your local gardens. How about grating these veggies to make cancer-fighting brownies?
Carrots and zucchini are rich in carotenoids, the plant-based phytochemical compounds associated with lower risk of breast, prostate and lung cancers. Walnuts protect against colon cancer.
You and your guests will love these treats at your spring holiday events.
Ingredients:
2 medium zucchinis
1 large carrot
2 tablespoons ground flaxseed
6 tablespoons water
2 cups oat flour
¾ cup unsweetened cocoa powder
½ teaspoon baking soda
½ teaspoons baking powder
1 teaspoon salt
1 small banana, mashed
¼ cup pure maple syrup
½ cup unsweetened applesauce
2 teaspoons pure vanilla extract
½ cup semi-sweet chocolate chips
½ cup chopped walnuts
Preparation:
Preheat oven to 350 degrees Fahrenheit.
Finely grate zucchini and carrot in food processor or with a box grater.
Mix flaxseed with water. Set aside.
In a small bowl, mix together flour, cocoa powder, baking soda, baking powder and salt.
In a medium bowl, mix mashed banana, maple syrup, applesauce, vanilla and flaxseed mix.
Add dry mix to wet mix. Blend well until combined.
Stir in grated zucchini and carrot.
Mix in chocolate chips and walnuts.
Pour into a greased 9-inch by 12-inch baking pan.
Bake for 30 minutes or until toothpick comes out clean.
Yield: 24, 2-inch square, brownies
Approximate nutritional breakdown per brownie:
108 calories, 3 grams protein, 4 grams fat, 15 grams carbohydrate, 2.6 grams fiber, 138 milligrams sodium