Request information
To request more information about the HonorHealth Research Institute Early Detection Research Program:
Call 833-354-6667 or email us
Finding ways to detect your risk for cancer, infections and other diseases before you experience any symptoms is the goal of the Early Detection Research Program at the HonorHealth Research Institute.
The program offers a personalized approach to cancer risk assessment through testing and consultations that may include:
Family history assessment and medical exam.
Genetic counseling and testing.
MRI.
Blood testing.
Endoscopy.
Nutrition consultation.
Risk-reducing surgery (if applicable).
The program is initially focused on pancreatic cancer risk assessments, with plans to expand offerings to other diseases.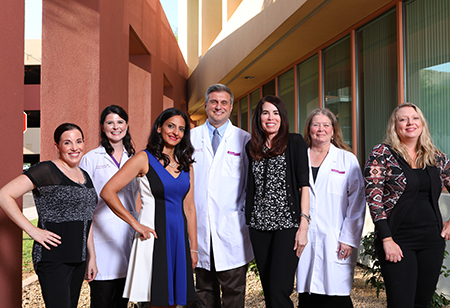 Early detection program for breast cancer personalizes screening process
If you're at high risk for breast cancer due to your personal or family health history and genetic makeup, you're the perfect candidate for an early detection program at the HonorHealth Research Institute in Scottsdale, AZ.
The program offers a personalized approach to breast cancer risk assessment through:
Individualized evaluation.
New approaches for screening.
Risk reduction.
Long-term follow-up.
The comprehensive program offers:
Counseling about preventive therapies.
Lifestyle modifications.
Increased screening.
Risk-reduction surgery, if appropriate.
Opportunities to participate in early-detection clinical trials that explore new screening methods and diagnostic techniques.
"We have made significant progress over the years in identifying and diagnosing breast cancer at an early stage which has improved outcomes for women significantly," said Jasgit Sachdev, MD, lead investigator for the program. "Now at HonorHealth, we have initiated a program to personalize the screening process for all women based on their individual risks and have instituted a tailored approach for higher risk women based on innovative preventative strategies."
Pancreatic Cancer Risk Assessment Study
Pancreatic Cancer Treatment - Research and Early Detection Program
The institute's Early Detection Research Program is leading risk-prediction clinical research for pancreatic cancer that will:
Evaluate risk criteria for pancreatic cancer.
Establish a database to delineate patterns of characteristics specific to pancreatic cancer.
In the future, use biomarkers to aid in the early detection of pancreatic cancer.
The study will closely monitor participants for many years. You may be eligible based on nationally established risk-assessment criteria including:
A higher-than-average risk of developing pancreatic cancer.
Identification of hereditary mutations that indicate an increased risk of developing pancreatic cancer or a diagnosis of intraductal papillary mucinous neoplasm, a type of tumor that grows within the pancreatic ducts.
If you're eligible for the pancreatic cancer study, you may undergo:
A thorough history and physical exam.
Genetic testing for hereditary mutations.
Routine blood tests along with a test for a specific tumor marker.
If indicated:
MRI.
Magnetic resonance cholangiopancreatography, or MRCP, a procedure that visualizes bile and pancreatic ducts.
A gastroenterology consult.
Endoscopic ultrasound.
Costs to a patient are dependent on insurance coverage. To see if you're eligible to enroll in the study, call 480-323-1339 or email us.