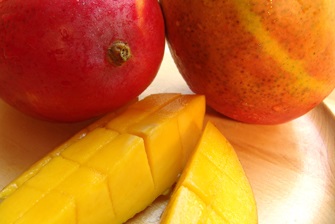 This salad wows from Cinco de Mayo all the way through the summer and beyond with its Southwestern flavors and seasonal and locally available vegetables. It's not only colorful, it's also powerful, with a variety of health-promoting, plant-based phytochemicals and fiber, says Terri Taylor, nutritionist at the Virginia G Piper Cancer Care Network.. As the temperature rises, rely on this nutritious, no-cook recipe.
Ingredients:
1 cup diced mango
1 cucumber, seeded and diced
1 medium tomato, seeded and diced
1 cup diced jicama
¼ cup corn kernels
¼ cup diced onion
¼ cup chopped cilantro
2 limes, juiced
1 tablespoon horseradish
1 teaspoon turmeric
3 cups cooked black beans (if canned, organic and BPA-free, rinsed, drained and patted dry)
½ cup diced avocado
Salt and black pepper to taste
Preparation:
In a large bowl, combine mango, cucumber, tomato, jicama, corn, onions, cilantro, lime juice, horseradish and turmeric.
Mix well.
Add black beans and avocado.
Mix gently.
Season to taste with salt and black pepper.
Yield: 8 (1 cup each) servings
Approximate nutritional breakdown:
130 calories, 6 grams protein, 2 grams fat, 22 grams carbohydrate, 7 grams fiber, 94 milligrams sodium
Want to cook with us? Join the clean eating lecture series at the Virginia G Piper Cancer Care Network..