In 2011, having her fourth baby nearly killed Tiffany Jones, Ph.D.
Weighing 225 pounds when she got pregnant, and at 5 feet, four inches tall, the Chandler resident suffered from uncontrolled high blood pressure, despite taking three medications for it.
"I had to have my baby a month early because my blood pressure and liver enzymes were out of control," she said. "When my baby was born a preemie, I knew I had to do something about my weight."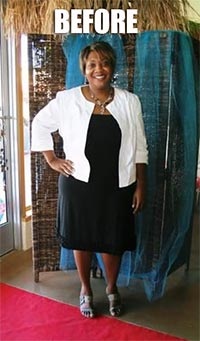 Bariatric surgery at HonorHealth was her solution. She's now off all medications and feeling, in her own words, "wonderful!"
For years, her primary care doctor told her, "You're too fat!" "And I'd ask myself why I had a doctor who verbally abuses me," she said with a laugh. Another doctor she consulted for hormone issues suggested that Tiffany consider bariatric surgery.
"As a psychologist, I see bariatric patients in my practice. Yet I never considered bariatric surgery as an option for me," said the mother of four. "I don't have self-esteem issues. I pretty much thought, 'If you don't like it, don't look!'"
For the sake of her health, Tiffany called the HonorHealth Bariatric Center in 2013. She participated in all the pre-surgery classes and counseling, losing 20 pounds over several months, per requirements from her insurance coverage. "I went into it saying, 'I'm gonna do it and do it right.' And I did."
98-pound weight loss in first year
In November 2013, after gastric sleeve surgery, which reduced the size of her stomach by 80 percent, the weight started falling off immediately, Tiffany said. "At six months, I was almost at my goal. I lost 98 pounds that first year and kept it off. I'm at 127 pounds now," said the 45-year-old. "And I've pretty much stayed there since that first year. I was a size 24; now I wear a size 4. All my aches and pains are gone. My lower back always hurt before, and I was always at the chiropractor. Not anymore. Now I can definitely bend. I used to wake up with my extremities swollen. Not now. I feel better than when I was 18."
Does she have sagging skin from the weight loss? "None," she said happily. "I know other people have it, but I did not."
Different relationship with food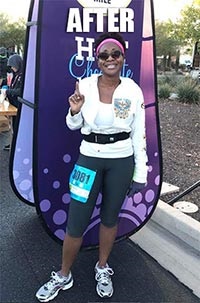 With bariatric surgery, "it's a head game," the psychologist declared. "The mind and the gut have to work together to make the surgery a success. The HonorHealth nutritionist told us to always ask ourselves: Why are you eating that? Are you satisfied? I changed my relationship with food. I'm a foodie; I love to cook. I cook differently now, with less carbs. I love to bake. I love sugar, cookies, cakes. Now I'll eat one cookie — that's it. Because if you eat more, you get sick."
She noted that her tastes changed after her gastric sleeve surgery. "Now I can't eat anything processed — it tastes chemical to me," she said.
"The Bariatric Center's staff were at my beck and call," she continued. "They helped me be a knowledgeable consumer, walking me through the process. I emailed them when I struggled; they never let me go when it came to support. They told me, 'Anytime you need to come in, come in.' Yet they pointed me in the direction of being my own self advocate."
Bariatric Center staff also held her accountable at appointments, making her think about her choices. "Tiffany was, and is, open to suggestions," said Arrin Larson, HonorHealth Bariatric center coordinator. "She asked questions and reached out to us when she struggled with food and exercise challenges. Tiffany also would follow up and celebrate her successes with us. It has been a pleasure to see her so full of energy and enjoying her life to the fullest."
All in the family
When it came to family support on her weight loss journey, Tiffany remembers that her mother started crying "when she saw me four months after surgery. 'You look like you used to,' she said. Inspired by her daughter's weight loss, her mother later lost 50 pounds.
"My kids said, 'Mom! Wow!' They also said they liked old mom but they like new mom a little better.
"My husband, Dave, wanted me to be healthy. When we prayerfully considered weight loss surgery, he said, 'Do it.' He was my biggest supporter and fan, saying he loved me heavy and skinny."
Is it challenging to keep the weight off? "Yes," Tiffany said. "I have to exercise. I'm running 5 and 10Ks now. This morning I ran two miles. I kick it into high gear if I think I'm gaining. I got doughnuts for the kids this morning (none of them has weight issues), and I just smelled the doughnuts; I didn't eat any. I don't eat fast food now, I haven't had soda or gum in four years — and I love gum!"
She feels confident she has aligned her mind and her gut. "Surgery is a tool," she noted, "and the rest is up to you."