The day after her gastric bypass surgery in 2015, Bonnie's blood pressure improved. Although medication controlled her hypertension before surgery, her blood pressure became normal on just the second day post-surgery.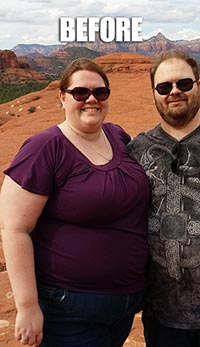 "The nurses (at HonorHealth Scottsdale Shea Medical Center) were watching me closely," the 31-year-old Phoenician remembers. "I got off my blood pressure medication almost immediately. I also was no longer prediabetic shortly after surgery that Dr. James Swain performed. And my knees and back feel so much better now."
Perhaps best of all was the disappearance of a condition called gastroparesis within a day or two of the surgery. "Gastroparesis involves a nerve that makes the stomach contract to help digest food, and my nerve was damaged," Bonnie said. Her GI specialist in Mesa, who had been treating her for the ailment for years, suggested that Bonnie consider bariatric weight loss surgery. He felt it would help with the gastroparesis.
"I went home and thought about it," she said. "Then I called the HonorHealth Bariatric Center." She soon met with Marcia, a medical assistant at the center. "She asked me why I was there. She let me talk," Bonnie said. "Then she explained the health risks that obesity carries for someone my age. I said I needed an accountability partner, and she told me about the support groups, the nutritionist and the behavioral health experts in the program. I soon realized these people could help me and keep me accountable.
No more junk food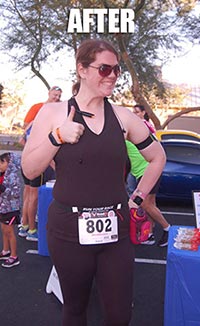 "I was sick and tired of being sick and tired," Bonnie continued. At 5 feet, 11 inches tall, she weighed 357 pounds in 2015. When she made the decision to have the surgery, she remembers saying, "I'm all in! I made a 180-degree turn. I dropped all my junk food. I cleaned out my pantry and gave it to charity." She lost 60 pounds in the four-month pre-surgery weight loss program required by her insurance company.
Occasionally, Bonnie needed some reassurance before the surgery. She remembers calling Desiree, the center's pre-surgery coordinator, in tears a couple times. "I've got you," Desiree assured her. "She helped me pull it together," Bonnie said. "She was what I needed at that moment."
Now at 220 pounds, Bonnie's determined to reach her goal weight of 180. She knows it will be harder now that the one-year post-surgery milestone has passed. "It's a slower trajectory now. You lose the most weight that first year," she noted. "I've lost 144 pounds total since my Aug. 19, 2015, surgery, but I regained some of it. There were some stressful times in my personal life, and I wasn't paying attention to my diet and how to eat right.
'Expect some bumps'
"The staff at the Bariatric Center told us: 'You're gonna have bumps' post-surgery. And I did. They also told us to call the nutritionist or the surgeon, or go to a support group to refocus yourself."
Nutritionist Bebe Brown remembers Bonnie as "really enthusiastic. She's strong-willed but very compliant."
Among the nutritional advice she gave Bonnie was:
No alcohol. It will go straight to your liver after your surgery. "I won't drink again," Bonnie said firmly.
No high-sugar foods — cake, cookies, candy, doughnuts.
No simple carbs such as white rice, bread or pizza.
Follow the 30-20-30 rule: If you drink water, wait 30 minutes to eat. Eat for 20 minutes. Wait 30 minutes to drink water again. Doing this leaves you feeling fuller longer because water isn't flushing food out of your new, much smaller, stomach.
"If you can't give up the carbs and sugar, this surgery is not for you," Bonnie declared. "It's a full-life commitment. If you're looking for an easy way out (of obesity), this ain't it."
When it comes to exercise, Bonnie surprised herself. "If you'd asked me five years ago if I would enjoy running, I would have looked at you funny," she said. "Now I do half-marathons and 5Ks. It feels awesome — I like the medals."
Another transformation was her post-surgery self-esteem boost. "My self-esteem is huge now," she said. "I feel much more empowered. Before, I would curl up inside myself. I shied away from a lot of things. The surgery and weight loss have been huge for my psyche. I have the confidence to stick up for myself now, and  I'm confident in my clothes — I see a healthy 31-year-old.
Cooking is a scavenger hunt
"I love to cook," Bonnie continued. "Now it's a scavenger hunt. If I'm hungry for pizza, I make it with a cauliflower crust. Pinterest is my best friend."
Bonnie's husband, Nick, was extremely supportive throughout the journey. "He did the 180-degree turn with me when I decided on the surgery and cleaned out the pantry," she said. "He walked it with me." Nick has lost 50 pounds with the junk food purge and by accompanying her on walks.
Has the journey been easier or harder than she expected? "Easier," Bonnie replied quickly, "with all the support from my family and from the Bariatric Center staff. The support groups and nutritionist Bebe Brown were fantastic. It was a whole lifestyle change. I have to read food labels carefully now. If sugar is in the first five ingredients, I don't buy it. And a meal now is a cup of food — I need to get nutrition in that cup."
She's confident her transformation will continue as she works toward her goal weight. She knows now that she can do it.