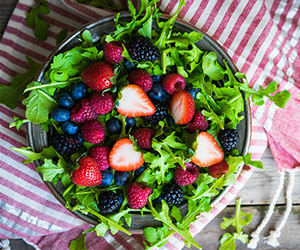 By Terri Taylor, registered dietitian
Virginia G Piper Cancer Care Network.
Summertime is fresh berry time. These red, blue and purple beauties are loaded with health-promoting phytochemicals and fiber. Eating berries is associated with brain, heart and bone health and a lower risk for cancer.
Ingredients
¼ cup red wine vinegar
1 tablespoon minced shallot
2 tablespoons walnut oil
1 tablespoon honey
1 tablespoon lemon juice
½ teaspoon salt
¼ teaspoon freshly ground black pepper
½ cup walnut halves
8 cups salad greens
½ cup fresh strawberry halves
½ cup fresh raspberries
½ cup fresh blueberries
¼ cup each: packed, chopped fresh mint, parsley and basil
Optional: 6 ounces cooked, shredded chicken breast or ½ cup crumbled blue cheese
Preparation
To make dressing: combine vinegar, shallot, walnut oil, honey, lemon juice, salt and pepper in small bowl. Whisk.
In a small skillet, add walnuts. Heat on low for 4 minutes or until fragrant and lightly toasted.
In a large bowl, combine salad greens, berries, herbs and walnuts. Top with chicken or cheese if desired.
Drizzle with dressing and toss.
Yield: Six servings
Approximate nutritional breakdown per serving with chicken
189 calories, 8 grams protein, 13 grams fat, 10 grams carbohydrate, 3 grams fiber, 228 milligrams sodium