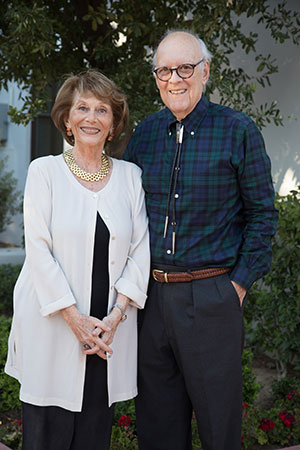 A tribute to Joy and Howard Berlin
For more than eight years, Howard and Joy Berlin have shared their spirit of life and giving with HonorHealth.
Howard has served on the HonorHealth Foundation board of trustees, and both he and Joy have been active supporters of patient programs and services.
Over the years, as HonorHealth grew, Howard and Joy often were among the first to step forward to support new technologies and services. So it was no surprise that when the HonorHealth Longevity Institute was first proposed, the Berlins enthusiastically lent their support through an endowment.
HonorHealth Foundation paid tribute to the Berlins with the dedication of the Howard and Joy Berlin Lobby at HonorHealth Thompson Peak Medical Center. Located on the second floor, the lobby is a main hub connecting the volunteer information center with the adjacent family and visitor waiting areas. The lobby also is the gateway to all of the other units on the second floor.
The couple's support of the Longevity Institute will help thousands of people not only reach their goals, but also get there with grace, quality of life and that extra help needed by bodies and minds as they age.
Thanks in large part to the Berlins, the Longevity Institute is working to address the unique and often complex health and wellness needs of the community's aging population. Since its inception, the Institute has established a partnership with the City of Scottsdale and Scottsdale Community College to research senior fitness.
Learn more about HonorHealth Foundation or donate to HonorHealth programs and services.