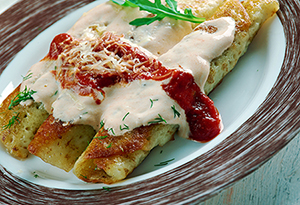 What do autumn, pumpkins and breast cancer awareness have in common? They're all associated with October. Pumpkin is also an anti-breast cancer food, says Terri Taylor, registered dietitian at the Virginia G. Piper Cancer Center. Both sweet and savory, pumpkin is a versatile ingredient for many recipes. You can eliminate the chicken and increase the beans to make it meatless.
Ingredients
1 small can chipotle peppers
1 (15-ounce) BPA-free can pumpkin
1 ½ cups water
1 teaspoon chili powder
½ teaspoon salt
½ teaspoon freshly ground cumin
2 teaspoons avocado oil
1 medium red onion, diced
1 yellow or red bell pepper, diced
1 cup cooked red kidney beans (if canned, drained and rinsed)
1 ½ cups shredded cooked skinless chicken breast
8 white corn tortillas (6-inch)
Pico de gallo or salsa of choice
Preparation
Preheat oven to 400 degrees Fahrenheit.
Puree chipotle peppers in food processor to make a paste. Set aside.
Put pumpkin, water, one tablespoon of chipotle paste, chili powder, salt and cumin in blender. Blend until sauce is smooth.
In medium skillet, heat avocado oil. Add onions and bell pepper. Sauté until soft and onions are browned and translucent.
Place beans in large bowl. Mash slightly with a fork. Stir in half of pumpkin sauce, chickens, onions and bell pepper.
Coat a two-quart rectangular baking dish with cooking spray.
Place tortillas between paper towels. Microwave on high for 30-40 seconds to soften.
Spoon one-third of bean mixture into each tortilla. Roll up tortillas, seam sides down, in prepared baking dish.
Pour remaining pumpkin sauce over rolled tortillas.
Baked covered for 20-25 minutes.
Garnish with pico de gallo or salsa.
Yield: Eight tortillas
Approximate nutritional value per tortilla
147 calories, 9 grams protein, 3 grams fat, 21 grams carbohydrate, 5 grams fiber, 168 milligrams sodium
Sign up for a healthy cooking class at the HonorHealth Virginia G. Piper Cancer Center.