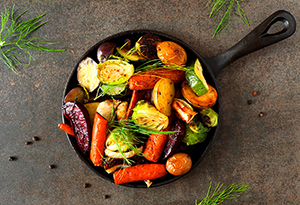 Terri Taylor, a registered dietician at the Virginia G. Piper Cancer Center, offers a great fall recipe with healthy benefits.
Root vegetables are at their peak this time of year. When roasted, they're a sweet and colorful companion to your holiday entrée. The antioxidant and anti-inflammatory properties from the vitamins, potassium, fiber and phytochemicals in root vegetables help reduce cancer and heart disease risk, control blood pressure and support immune function. Any leftovers lend themselves to Buddha bowls, wraps, pasta dishes or just a snack.
Ingredients
3 tablespoons extra virgin olive oil
2 tablespoons whole grain mustard
1 tablespoon chopped fresh thyme
1 tablespoon balsamic vinegar
½ teaspoon Himalayan pink salt
½ teaspoon freshly ground black pepper
1 pound peeled, cubed butternut squash, about 3 cups
1 pound peeled, cubed parsnips (about 2¼ cups)
1 pound Brussels sprouts, trimmed and halved
1 pound rainbow carrots, sliced diagonally
¾ cup pecan halves
2 tablespoons organic pure maple syrup
Preparation
Preheat oven to 450 degrees Fahrenheit.
In a small bowl, combine oil, mustard, thyme, two teaspoons vinegar, salt and pepper. Stir with a whisk.
In a large bowl, combine squash, parsnips, Brussels sprouts and carrots.
Add mustard mixture. Toss to coat.
Spread vegetables in a single layer on a parchment-lined baking sheet.
Bake for 25 minutes or until browned and tender, stirring gently with a spatula midway through cooking.
Combine pecans with maple syrup. Add to roasted vegetables.
Return to oven for another 10 minutes.
Remove pan from oven.
Drizzle with remaining one teaspoon vinegar. Toss.
Yield: Seven (1 cup each) servings
Approximate nutritional breakdown per one cup serving
268 calories, 5 grams protein, 12 grams fat, 35 grams carbohydrate, 9 grams fiber, 348 milligrams sodium
Sign up for a healthy cooking class at the HonorHealth Virginia G. Piper Cancer Center.