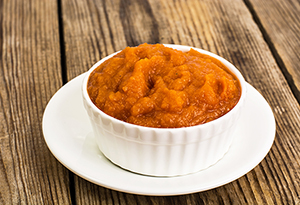 The orange color of carrots signifies their high level of disease-reducing carotenoids. Carotenoids act as antioxidants in the body to reduce risk of cancer, support heart health, protect vision and help immune function.
The absorption of carotenoids is increased when eaten with a fat source such an oil, avocado, nuts or seeds. Eating food sources of carotenoids is preferred, rather than taking supplement pills.
Terri Taylor, a registered dietician at the Virginia G. Piper Cancer Center, offers a great recipe with healthy benefits.
Ingredients
1 cup carrots, washed, peeled, large dice
1 cup sweet potatoes, washed, peeled, large dice
1 cup butternut squash, washed, peeled, large dice
2 garlic cloves
½ teaspoon pumpkin pie spice, separated
2 teaspoons extra virgin olive oil, separated
Directions
Preheat oven to 400 degrees Fahrenheit.
On a piece of foil, place carrots, sweet potatoes, one garlic clove, one-fourth teaspoon pumpkin pie spice and one teaspoon extra virgin olive oil.
Fold over to create a pocket. Seal by folding the edges.
On another piece of foil, repeat with butternut squash, garlic, pumpkin pie spice and oil.
Place both foil packets on a cookie sheet.
Roast in the oven for thirty minutes. The butternut squash may take longer to cook.
Once vegetables are fully cooked and mash easily, remove from foil. Transfer into a bowl.
Using a potato masher, mash until smooth. Season with salt and black pepper to taste.
Can freeze for future use.
Yield: 2 ¾ cups total
Approximate nutritional breakdown per one cup serving
58 calories, 1 gram protein, 1.5 grams fat, 10 grams carbohydrate, 2 grams fiber, 30 milligrams sodium (51 milligrams sodium if seasoning with salt)
Sign up for a healthy cooking class at the HonorHealth Virginia G. Piper Cancer Center.