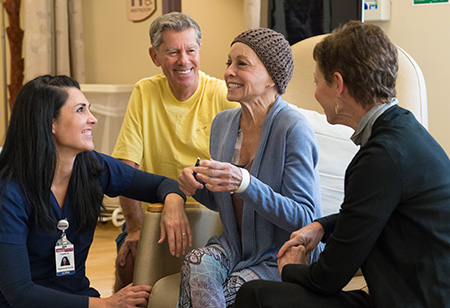 A patient shares her perspective on receiving a pancreatic cancer diagnosis and participating in a clinical trial.
My name is Kay. I am 71 years old, and I am a wife, mother, grandmother and yoga teacher. My story begins when I was 28 years old and my mother, who was 53 at the time, passed from pancreatic cancer only two months after her symptoms appeared.
This past May, I had mild stomach pain on two occasions. On the second occasion, I determined I was having appendicitis. I went to the emergency room in the middle of the night, and a CT scan confirmed I needed an appendectomy. To make a long story short, my appendix was diseased, but I also got a diagnosis of pancreas cancer.
To say I was shocked cannot even begin to describe how this hit me! My mother and I lived completely different lifestyles. I never in a million years thought that this would be my journey.
I left the hospital without a plan until I visited my primary care physician. She immediately called Joyce Schaffer, the nurse navigator at the HonorHealth Research Institute, and I had hope in my heart that this was the right place to be.
From the first moment I stepped into the building, it was the most welcoming, beautiful place! Everyone smiles at you and the halls are filled with hope for a cure for pancreas cancer. There are amazing things happening in the clinical trials being done at this center. My doctors, Dr. Erkut Borazanci and Dr. Daniel Von Hoff, are leading the way for a cure for pancreas cancer, and it will happen very soon, I feel.
I have been in my trial since July 2017, and I can honestly say, I know I am being healed. Is it easy? No, but nothing worthwhile is, right? It would be my wish that more people could have access to what is going on at this miracle in the desert!
I feel forever grateful and blessed to be a part of this amazing place. I see my fellow patients getting better and stronger every day! Their faces are filled with light and hope! In the face of uncertainty, there is nothing wrong with hope! It abounds at the HonorHealth Research Institute, and I am blessed to be there!
— Kay
In addition to clinical trials for treating pancreatic cancer, the HonorHealth Research Institute is conducting a pancreatic cancer risk assessment study. It provides a comprehensive and personalized approach to your risk of pancreatic cancer. The program may include:
Family health history assessment.
A medical exam.
Genetic counseling and testing.
MRI.
Blood tests.
Endoscopy.
Nutrition consultation.
Risk-reducing surgery (if applicable).
The study also is establishing a database to delineate patterns of characteristics specific to pancreatic cancer. In the future, biomarkers may be used to aid in the early detection of pancreatic cancer for eligible candidates.
If pancreatic cancer is diagnosed, multiple treatment options are available including surgery, chemotherapy, radiation therapy or immunotherapy.
"Our program includes a team of medical oncologists, radiologists, surgeons, pathologists, nurses and social workers, among others, who come together to review every individual case and offer recommendations for the next steps in treatment," Dr. Borazanci said.
Request information
To request more information about the HonorHealth Research Institute Early Detection Research Program:
Call 833-354-6667 or email us.
---