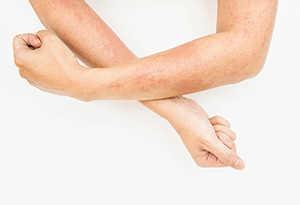 Did you see a blotchy, itchy rash spreading from your arms to your legs toward the end of that never-ending nasty cold or flu bug you recently had? You're not alone.
"We see it every year, especially with kids," said Matthew Anderson, MD, a family medicine physician in the HonorHealth Medical Group. The rash arrives toward the end of infection and lasts a couple days. "It's the body's reaction to the virus and doesn't respond to much medication, including steroids. "We try to just give the body time to heal itself," he said.
Find a doctor
Find a knowledgeable family medicine physician or internist in the HonorHealth Medical Group.