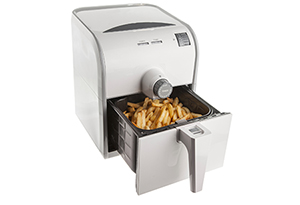 Lucky you: You got the gift of a hot air fryer over the holidays?!
The beauty of this modern appliance, afficionados say, is that you get all the yumminess of fried food without all of the fat and high calorie counts of hot grease immersion. Hot air blows over such items as frozen French fries, onion rings, chicken wings and even doughnut dough (think biscuit dough in the tube) to cook the food and give it the appearance and taste of fried food.
If you believe internet reviews, not all hot air fryers deliver the same level of crispness or an evenly browned look on all sides. Some fryers are bigger than others and take up a lot of real estate on the countertop. Also, some of the appliances may be a bit too complicated for your (ahem) taste, and some of the less expensive ones may not have the raft of accessories you might find handy — tongs, tray, grill pans, etc.
Is it healthier?
Regardless of the ins and outs of the appliance, is it a healthier option to prepare "fried" food that just plain tastes good?
Kristal Burton, a registered dietitian for NOAH, one of HonorHealth's community service arms, gives them a cautious thumbs up. "They can be healthier thanks to little or no oil, but you have to aware of the health halo." That translates to: "If it's healthier, I can eat all I want."
Not so fast, pardner. "You have to be careful not to overeat," she warned. Potatoes are potatoes, and biscuit dough is still biscuit dough, and they all carry calories and often carbohydrates, which can have a big impact on weight gain and blood sugar levels.
"My patients do say they like the fryers," Kristal continued. "They like the texture and taste of the food with only a teaspoon of fat. That amount can help keep calories and saturated fat intake down, and that's beneficial to weight loss and heart health. The appliance could be a fantastic tool because of that."
Burton compares the hot air fryer to a convection oven that uses currents of air to cook. "It's the user's contact with the fryer that's different," she said. "The fryer seems to be more friendly."
Somebody pass the ketchup, please.
Attend an upcoming HonorHealth nutrition class.