HonorHealth's neuroscience team includes physicians, nurses, therapists, technicians and other medical professionals. Here are some of the teams that you might interact with during your treatment and recovery: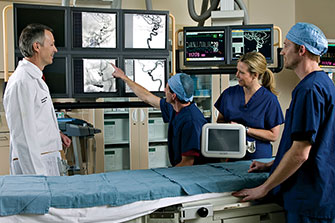 Neurosurgeons and neurologists. Several of HonorHealth's neurosurgeons have been trained at the world-renowned Barrow Neurosurgical Associates and work closely with highly skilled neurologists from HonorHealth Neurology and the community to provide patients with the best care available based on evidence-based practice.
Mid-level providers. They are experienced in caring for patients with neurological disorders and assist the neurosurgeon during surgery and the neurologist during hospital rounds.
Nursing staff. Many of HonorHealth's nurses have earned additional certifications, such as the Magnet designation, which recognizes an elite few healthcare organizations for consistently providing nursing excellence and quality patient care. This distinction is the highest honor for nursing excellence. Additionally, many of HonorHealth's nurses have earned the Certified Neuroscience Registered Nurse (CNRN) credential.
Operating room staff. This team includes nurses, technicians, and physicians that are trained in the area of neuroscience. They specialize in that area so that they become very familiar with what surgeons are doing and can anticipate their needs almost before they can ask for them.
Interventional radiology staff. This team includes a radiologist who has spent many years learning how to read CAT scans and MRIs. Many of our interventional radiologists have been trained at Barrow Neurosurgical Associates.
Therapy services team. This group provides the needed help in rehabilitating the area of your body that may have been affected by the stroke, injury or disorder. The length of time the therapist spends with you is determined by your condition and the orders received by a physician.
Registered dieticians. As with all trauma, the body will require more nutrition in order to heal. Our registered dieticians not only have a degree in dietary areas, but also have a registered certification that provides them with the needed knowledge on what is required by the body given certain circumstances.
Case management and social workers. These professionals begin working with you and your family immediately upon admission. Social workers give the family and you an avenue to express your feelings and their fears. Case management staff help with insurance matters and getting the proper equipment sent to home, if going home is the chosen option. At times you'll need to go to an extended care facility and the social worker and case management personnel can assist with the different options available that will work with the your insurance.
Pharmacy. This is available 24/7 to fill the requests of the physicians and mid-levels for any medication that is prescribed. Pharmacists also are able to provide an explanation of each medication being given.
Admitting/registration. This team ensures all the paperwork for billing your insurance is correct.
Laboratory technicians. These professionals are responsible for drawing your blood as ordered by the physician and for getting the results back to him or her in a timely fashion.
Radiology. This is a part of interventional radiology, but the term radiology encompasses many tests that are done under X-ray.
Transport and lift teams. The transport and lift teams are alerted when someone needs to be transported to one of the departments that may have been listed above. They were developed for your safety. Most patients who are physically capable try to help move from one spot to another, but when in a fragile state may not be able to, or their legs will give out.
Quality improvement. You can be assured that your quality of care meets or exceeds the government's expectations. You and your family also can go online to check the statistics and quality measurements of any of HonorHealth's facilities.