Terri Taylor, a registered dietician with the HonorHealth Virginia G. Piper Cancer Care Network, provides this colon-healthy recipe.
Support National Nutrition Month and Colon Cancer Awareness month in March by making these black bean tacos. Cancer specialists recommend eating more fiber and phytochemicals from legumes and cruciferous vegetables like broccoli, and less red and processed meat, to prevent colon cancer. Other recommendations include maintaining a healthy weight, being physically active and limiting alcohol consumption. Aim to eat two or more meatless meals a week, starting with this recipe.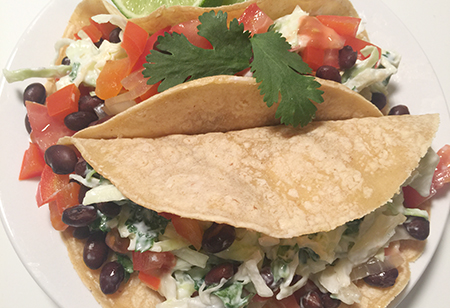 Ingredients
¼ to 1/3 cup (0 percent fat) plain Greek yogurt
2 Tablespoons fresh cilantro, minced
Juice of half a small lime
2 cups broccoli slaw mix
1 Tablespoon expeller or cold-pressed canola oil
1 garlic clove, minced
½ medium white onion, diced
½ cup Julienne (thin)-sliced red peppers
1 15-ounce BPA-free can organic black beans, drained
1 teaspoon cumin
1 ½ teaspoons chili powder
½ teaspoon garlic powder
¼ teaspoon salt (optional)
½ teaspoon smoked paprika
¼ cup water
6 6-inch corn tortillas
Diced fresh tomato
Cooking
Make slaw mix: In a medium bowl, mix Greek yogurt with cilantro and lime juice.
Add broccoli slaw and mix well. Set aside.
Heat a medium skillet over medium-low heat.
Add tablespoon of oil. Once hot, add garlic, onions and red peppers.
Saute until onions are translucent, about 3-4 minutes.
Add black beans and stir.
Stir cumin, chili and garlic powders, salt, paprika and water into the bean mixture.
Mix well.
Use the back of a wooden spoon to lightly smash some of the black beans to help keep the mixture together.
Bring to a simmer and heat through, about 10 minutes.
Just before serving, heat the tortillas 2 or 3 at a time, either in a dry skillet on medium heat or in the microwave (separated by paper towels) on high for 5 seconds, just to soften.
Spread 1/3 cup of bean mixture into a tortilla.
Top with 1/3 cup of broccoli slaw and diced tomatoes.
Yield: 6 tortillas.
Approximate nutritional breakdown per tortilla: 119 calories, 7 grams protein, 3 grams fat, 16 grams carbohydrate, 5 grams fiber, 111 milligrams sodium.