As a mom, you need to care for yourself so you can care for your family. Give yourself a timeout with these ideas.
Be Happy. Try a simple self-discovery exercise by jotting down answers to these questions. Then shake up your routine to add more activities that make you feel good about yourself, connect with others, and find meaning and purpose in life. Complete the sentences: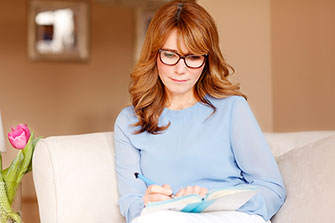 I am happiest when…
I am proud of myself because…
I was born to…
I can simplify my life by living without…
In my dreams, I…
I feel strongest when…
I'm proud of my family or community because…
Be Thankful. After a challenging day or significant event in your life, it's easy to lose your focus.
Stay on track by writing down your thoughts and feelings, an act that may help you think more clearly and move forward. It could be as simple as creating a gratitude journal or putting a post-it note on your bathroom mirror.
Be Stress-less. Stress happens. The trick is managing it. Try stress-reducing activities like meditation or exercise. Plan a vacation, staycation or other break from work and household responsibilities.
Look for mini-breaks in the day: listen to your favorite music, read a few chapters of a good book, take five for some yoga stretches, take a lunch break. Get plenty of sleep, seven to nine hours a night. Lean on a supportive friend or family member for help dealing with stress – she might need it just as much as you.
Be Well. You don't forget to schedule your children's wellness visits. Do the same for yourself.
Schedule your annual wellness visit with your primary care physician, an important step to help you stay healthy all year long. This visit focuses on preventive care, helps you set health goals, and offers education and counseling.